Calls for further EU security action as new measures signed into law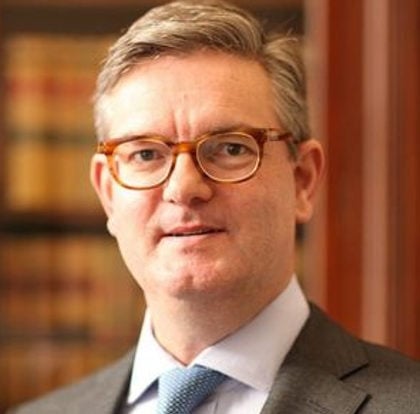 Sir Julian King, Britain's new European commissioner
The European parliament president signed a range of security measures into law on Wednesday, a day after a leaked document written by the European Commission's security union taskforce revealed failings thought to have permitted terrorist attacks in the continent.
Antonio Tajani, who took over as the Parliament's president in January, signed off legislation to strengthen the EU's legal framework in preventing attacks, including a directive on combating terrorism and the introduction of mandatory systematic checks of EU citizens at external borders.
The directive reinforces the rights of the victims of terrorism and criminalises acts such as receiving training for terrorism and travel for terrorist purposes.
The security union taskforce document, obtained by the Guardian, warns that the current system doesn't allow security services to adequately monitor movements in and out of Europe, and highlights weaknessess in the sharing of information between member states.
It argues that enhanced police checks around the borders between EU member states may be necessary, as well as a European police record information system to collate national police forces' information.
To mark the one-year anniversary of the Brussels terrorist attacks on 22 March, MEPs yesterday debated progress on the European security agenda.
"It is time to take stock of where we are one year after these attacks, in terms of security," said Ian Borg, parliamentary secretary for EU funds and 2017 presidency.
Borg said the EU has made major progress in the past two years: content on the Europol (the EU's law enforcement agency) information system increased by 34% between 2016 and 2017, with the amount of data on foreign fighters increasing by 11%. A record 1.4 million searches were performed in the information system in 2016 – an increase of 127% on the previous year.
Roberta Metsola, the Maltese MEP who requested the debate, praised the EU's progress on introducing measures such as a passenger name records (PNR) system – which should help trace terrorists – and on pushing forward strategies to tackle radicalisation and terrorist financing.
But she argued that use of biometric data and information sharing between member states must be improved, and that a fully functional EU criminal records information system must be put in place.
Sir Julian King, who in September was appointed as commissioner for security union, a newly created portfolio, said: "These attacks across Europe display a common factor. Many aspects – their preparation and execution – are transnational. That's why it's so important that we work together to ensure the most appropriate response and increase our collective resilience."
He said that Europe is moving in the right direction on information sharing, with an increase by member states in the use of the Schengen and the Europol information systems. He called for support for his proposal to reform the Schengen information system by including, for the first time, a provision to oblige member states to share information on terrorism.
This week the European Parliament also agreed to tighten gun laws throughout the EU, having promised to reform the firearms directive after the Paris attacks in November 2015. And yesterday saw the launch of the Civil Society Empowerment Programme, a project funded with a commission endowment of €10 million, which will support civil society actors throughout the EU in countering terrorist propaganda online.
European Commission president Jean-Claude Juncker is a well-known advocate of much closer security union. Last year he called for the EU to have a minister of foreign affairs and a defence headquarters. One of his five visions for the future of the EU, presented in a white paper released on 1 March, imagines that by 2025, 15 member states will have set up a police and magistrates corps to tackle cross-border crime, with security information immediately exchanged via fully connected national databases.
For up to date government news and international best practice follow us on Twitter @globegov
See also:
UK's last EU commissioner promises continued security cooperation
Germany announces new cyber security unit in wake of terror attacks
UK Home Office perm sec chosen as top security adviser to Theresa May