EU presents plan for bloc-wide digital identity scheme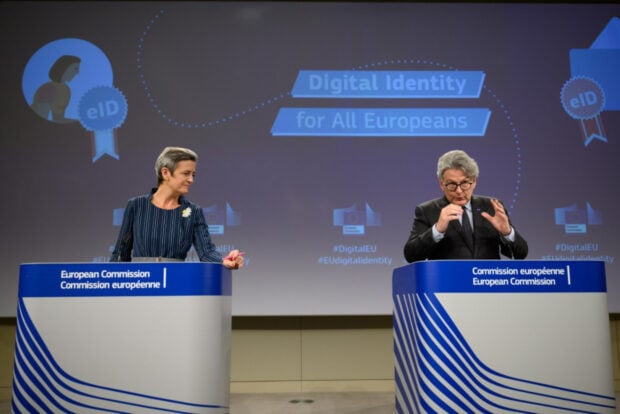 EU Commissioners Margrethe Vestager and Thierry Breton unveil the framework for a European Digital Identity. Credit: European Union
The European Commission revealed its plans for a digital identity framework for citizens, residents and businesses last week.
The European Digital Identity Wallet is an app that EU citizens will be able to install on their smartphone to prove their identity, access services online, share digital documents, or show other details such as age, a medical certificate, prescriptions, driving licences or professional qualifications. A unique life-long number will be assigned to every EU citizen.
Access to the app will be secured using biometric data such as fingerprints or iris scans, according to plans. The new service is conceived as an alternative to log-in services provided by companies such as Amazon, Facebook or Google.
EU citizens will be able to voluntarily sign up for the EU digital identity, which the Commission says is "secure and transparent", giving people the ability to decide if their data is stored, who it's shared with, and how much information is available for sharing.
"EU citizens not only expect a high level of security but also convenience whether they are dealing with national administrations, such as to submit a tax return, or to enroll at a European university where they need official identification," said Thierry Breton, internal market commissioner at the European Commission.
"The European Digital Identity wallets offer a new possibility for them to store and use data for all sorts of services, from checking in at the airport to renting a car," he added. "It is about giving a choice to consumers, a European choice. Our European companies, large and small, will also benefit from this digital identity, they will be able to offer a wide range of new services since the proposal offers a solution for secure and trusted identification services."
Cross-border digital identities
The COVID-19 pandemic significantly accelerated the shift to online services and so the need to address such limitations has become more urgent. This is being felt across the world. For example, Canada recently launched the latest iteration of its digital strategy, which includes a continued effort to introduce secure digital identities for citizens.
Some EU countries already offer identification systems to their citizens, but not all of these can be used across borders. There are 19 digital identification schemes currently in use by 14 member states, covering almost 60% of the EU-27's population, the report says. But, as the Commission acknowledged, take-up is low, use is cumbersome and business cases are limited.
The Commission's proposal is the result of an EU audit of existing digital ID methods. The proposed wallets may be provided by public authorities or by private entities, as long as they are recognised by a member state, the Commission says.
Preparations under way
Member states have also been invited to establish a common toolbox by September 2022 and to start necessary preparatory work immediately. This toolbox is to include technical architecture, standards and guidelines for best practices.
The Commission says it will work with member states and the private sector on technical aspects and intends to publish the toolbox in October 2022. Once the technical framework has been agreed, it will be tested in pilot projects.
The proposal estimates the European Digital Identity will have "quantifiable benefits" of up to €9.6 billion (about £8.3bn) and generate between 5,000 and 27,000 additional jobs over the five years following implementation.