Former civil service head to chair new Enterprise Singapore agency
By
Liz Heron
on 12/01/2018 | Updated on 24/09/2020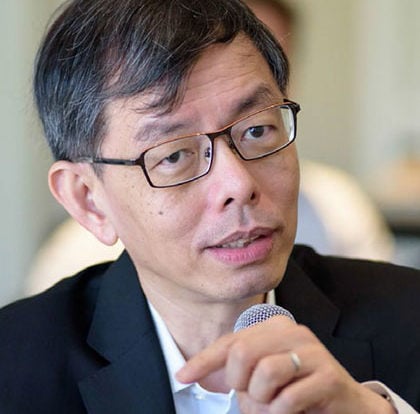 Peter Ong, pictured at the Global Government Summit - an international Global Government Forum event bringing together civil service corporate leaders from around the world
The former head of Singapore's civil service, Peter Ong Boon Kwee, has been appointed as chairman-designate of a new public agency charged with helping the city-state's businesses succeed in global markets.
Enterprise Singapore is being formed from a merger of the existing agencies SPRING Singapore, which supports start-ups and business development, and International Enterprise, which promotes international trade, and is due to be officially opened by 30 June.
Ong retired in August as permanent secretary in the Prime Minister's Office, after heading the Singapore civil service for more than seven years as cabinet secretary and permanent secretary of the finance department. A career civil servant with a track record of more than 30 years, he was previously permanent secretary in the ministries of finance, defence, transport and trade and industry.
His appointment was announced on Wednesday by the Ministry of Trade and Industry (MTI), following the first reading of the Enterprise Singapore Board Bill in Parliament on Monday.
Economic adviser
Ong was also appointed as senior economic advisor to the MTI, with effect from next Monday: his role will be to provide advice on economic strategies and policies and to champion efforts to promote robust enterprise growth.
MTI permanent secretary Loh Khum Yean said: "Mr Ong's breadth and depth of experience will be a strong addition to the MTI family. I look forward to working closely with him to strengthen economic growth and create good jobs for Singaporeans."
Ong's "extensive background and wealth of experience" will be instrumental in steering Enterprise Singapore's efforts to grow stronger Singapore enterprises, the MTI said in a statement. Png Cheong Boon, second permanent secretary at the MTI and a former chief executive of SPRING, was named as Enterprise Singapore's chief executive last year.
Building a new body
Over coming months other board members will be appointed to help guide the agency in providing greater support to Singapore companies that are looking to gain new capabilities, innovate and expand overseas.
"As a new statutory board, Enterprise Singapore will have to find ways to facilitate enterprises that are prepared to restructure and grow capabilities to compete aggressively," said Ong. "I am confident that the staff and management are excited and capable to meet this challenge."
The merger of the two agencies involves 960 employees. But an MTI spokesperson said in September last year that it was not a downsizing exercise and no retrenchments were expected. "Instead there will be new roles, expanded job scopes and more opportunities for staff," the spokesperson said, as reported by Channel News Asia.