Escaping the echo chamber: how governments are combating disinformation
By
Mia Hunt
on 21/12/2022 | Updated on 21/12/2022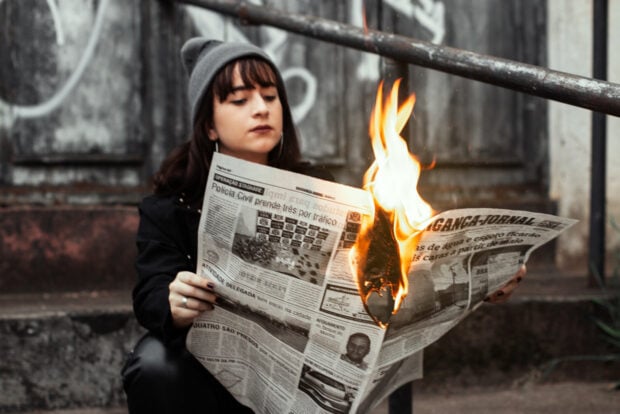 Photo courtesy Produtora Midtrack via Pexels
Consecutive crises such as the coronavirus pandemic and war in Ukraine have prompted a spike in the spread of misinformation and propaganda online. This is a worrying trend for governments, whose communications teams must fight to enable politicians and public servants to deliver for citizens effectively. During a Global Government Forum webinar, government communication leaders discussed how to bust myths and improve trust in public institutions
The importance of trust in government communications came to the fore during the COVID-19 pandemic when getting public health messages out and encouraging compliance with lockdowns and restrictions was vital to curbing the rate of infections.
However, governments are just one voice competing in a vast media ecosystem where social media can amplify less credible sources and the falsehoods they spread, with damaging implications. This phenomenon was evident during the pandemic and is being seen in the context of the war in Ukraine as well as countless other examples.
A Global Government Forum webinar – supported by knowledge partner 8X8 – brought together a panel of experts from the European Commission, the UK, and Finland, to look at the growing challenge of both misinformation and disinformation and what governments can do about it, including examples of best practice.
Here are the key points discussed during the webinar, with clips from relevant sections.
Alex Aiken, executive director of government communications at the UK's Government Communication Service, based in the Cabinet Office, kicked off the session by emphasising that the growth of social and digital media had led to the "fracturing of traditional media relationships" and, as a result, the fracturing of public trust in institutions.
"Financial, environmental and social crises make public communications an ever more powerful tool and reducing the 'trust gap' ever more important," he said. "But trust is easy to talk about and more difficult to do."
Effective government communications was, he said, a "hugely important" part of democracy, and timely, relevant, actionable information "absolutely essential" for public trust.
Aiken's advice to the six British prime ministers he has worked for has been to think about what they want their legacy to be. Because "noble mission is essential to delivering trust. If we are clear about what prime ministers and governments wish to achieve, then it is far easier to construct a story, to demonstrate delivery, and to have clarity of objective in our communication work".
He gave the example of the aftermath of the 2008 financial crash, when public confidence in the UK government's handling of the economy rose 40 percentage points in two years. This had been achieved, he explained, by focusing on four things: illustrating that government had a grip on the issues people cared about; having a plan and showing people the direction of travel; demonstrating action; and providing individuals with the agency to face up to the realities of the recession in their own way.
At a time of rising inflation, the cost-of-living crisis and other current events, such a focus would be key, he said.
What was also needed, he said, was a keen understanding of how people consume news in modern societies. A large proportion of 16- to 24-year-olds now consume news on Chinese video hosting platform, TikTok, he pointed out, explaining that unlike traditional print and broadcast media that offer full and comprehensive analysis of topical issues, TikTok and other similar platforms broadcast news in fragments.
"You hear pieces of news which are sometimes designed to excite or annoy, rather than tell a rounded story. That is an issue which we have to work on, to counter myths and disinformation, and we work very closely with the tech companies to do so."
Countering the spread of misinformation and disinformation – the former being unintentional and the latter being deliberate deception – relies in part on governments' ability to tell a compelling story digitally, he added.
Next, Vivikka Richt, director of communications in the communications unit of Finland's Ministry of Social Affairs and Health, gave the webinar's live audience a snapshot of public trust in Finland's government, how it had taken a hit during the coronavirus pandemic, and what was needed to regain it.
She said the country is ranked as one of the most stable in the world, that public trust in its institutions is high – partly due to the political system, which values accountability and aims to give all citizens a voice – and that its media is viewed as reputable and trustworthy.
But while public trust in the country's institutions remained relatively high throughout the COVID-19 pandemic, between 65% and 70% of respondents to a survey on the topic rated official government communication over that period as either very good or fairly good.
"This means we had a huge amount of people who were mostly indifferent, but also ones who were downright in opposition with us," Richt said. She explained that most of those who did not rate government communications highly were politically right-wing and felt – in a country governed by the centre-left Social Democratic Party – "alienated and socially excluded". "These are the people we are at risk to lose from our radar," she said.
Another worrying finding was that the number of people in Finland who felt they lived in an unjust society more than doubled during the pandemic. "This to us is very alarming," Richt said, prompting calls for a thorough examination of society and the need, in the meantime, for continued focus by government on promoting openness and inclusion.
One of the ways to do this was by opening channels through which civil society can have dialogue with government about how society might operate better. "We emphasise everyone being included in society. We talk about concepts like reinforcing dialogue, everyone's right to understand and be understood, and ensuring the opportunity to participate. In Finland, we firmly believe that fairness and inclusion are the keys for better communication," she said.
Alexander Winterstein, head of unit, communications policy, general affairs, at the European Commission's Directorate-General for Competition, began his opening comments by highlighting that Europeans' trust in European institutions is usually higher than in their national institutions – sometimes significantly so – but that even so, the level of trust "is not enough".
The European Union and European Commission, he said, had to deal with the issues of misinformation and disinformation on almost a daily basis – "myths about what Europe does and doesn't do that we're trying to correct and to fight".
As well as the untruths spread during the pandemic, the war in Ukraine prompted a flurry of disinformation from Russia, and fake news had been an issue surrounding Brexit which "of course was a difficult one in terms of accuracy of information", Winterstein said.
"All this misinformation and disinformation is very problematic because it confuses citizens, it increases distrust, it increases polarisation… and as in COVID, it can really undermine the effectiveness of the public response, for example in healthcare."
The Commission's view, he said, is that any official response to misleading or false information should centre around its core values, including freedom of expression and a free and pluralistic media.
"By anchoring our response on values, I'm quite sure that we are also increasing the resilience of our societies facing challenges like COVID or the Russia and Ukraine situation," he said.
In terms of misinformation – that which has no harmful intent – Winterstein said that could be addressed by putting out reliable, truthful rebuttals, and also by raising the public's awareness of untrustworthy sources and how to spot them.
He said the Commission's representative offices in member states were keeping a close eye on national stories and narratives and trying to correct misinformation. "There's a lot of myth busting going on. You would be very surprised by the sometimes incredible nature of these myths going around, but they're there and they're spread very actively."
He agreed with Aiken's point about the importance of digital literacy. The European Commission's president Ursula von der Leyen has 1.3 million Twitter followers and 1 million followers on LinkedIn, making these channels useful tools for disseminating messages.
Winterstein also picked up on Richt's point about transparency, explaining that the current Commission – formed in December 2019 – had worked hard to be as open, transparent and forthcoming with the media, and therefore the public, as possible. In the last three years, it has put out more than 4,000 press releases, speech transcripts and other such documents, and had organised more than 1,000 press events.
He pointed out that "the issues that we are dealing with here in Brussels are very often complex, technical and not always intuitively close to people's hearts and minds. Therefore, it's a constant challenge not to become technical or to use jargon [in our communications]. That's something we're working on – not to come across as paternalistic".
Next, he spoke of how to target disinformation, which he described as a "different story altogether".
"Disinformation is one of the tools that foreign actors use to try to influence our elections and to polarise and weaken our societies… and that requires a different, much more robust, much more creative approach. You need strong capabilities to do that."
Moving on to a broader point, Winterstein told the webinar audience that organisations that focused only on the content of messages spread online risked missing the bigger picture, emphasising a point made by Filipino-American journalist Maria Ressa, that 'information is the bullet and behaviour is the gun'.
"We need to focus on the gun as much as on the bullet. In other words, we need to look at what are the cognitive, the societal, and all the other frailties that are being exploited," he said. "What is being done to in order to capture our attention, to engineer trust, to engineer credibility – wrongly – and what is being done to trigger our emotions? All this needs to be assessed."
In response to a question from the audience about who decides what misinformation is, Winterstein said that "not every point of view taken by somebody which is not the same as your own point of view is misinformation" and that there is no 'Ministry of Truth'.
What is important for the Commission to do, in cases where a piece of information is blatantly wrong, he said, is not to use spin to counter it. "I really think that the credibility of the European institutions is based on the very fact that we are giving the full story and nothing but the facts. That makes us sometimes boring, technocratic, not very easy to listen to. But interestingly, this is, I think, where our credibility comes from."
Aligning with Richt's earlier point about openness, transparency and allowing citizens to have a voice, Aiken said that allowing members of the public to ask politicians questions during the UK's daily televised COVID briefings helped the government to take the pulse of public sentiment and concern – such questions were often different from those asked by journalists – and also helped generate an audience to listen to the advice of government during the crisis.
Another audience member asked whether in responding robustly to disinformation, governments risked further alienating people who were already distrustful of public institutions.
Winterstein urged people to look at the website EU vs Disinfo, which was established in 2015 and is run by one a taskforce of the European External Action Service. Its main aim is to identify disinformation created by the Kremlin and highlight the inconsistencies in its messaging, including through infographics where propaganda and the truth are presented side by side.
Further expanding on the issue of propaganda, he said those who engineer it work to force you into "a cycle of defensive argumentation. And because you are always honest and truthful, and as an institutional communicator, you're always on the backfoot".
One of the ways to address this, he said, was to raise awareness of propaganda techniques so that people could make up their own mind, rather than trying to convince them to take the official line.
Aiken said that the UK had a "relatively sophisticated formula" for tackling disinformation. This 'toolkit' is only deployed if the information doing the rounds is "particularly offensive, particularly potentially damaging and dividing society… I think you have to set a fairly high bar for intervention [to avoid further alienating people]".
Continuing the discussion about tools used to counter disinformation, a question came in about whether governments had or were considering introducing an online mechanism for use by the public that filters reliable from unreliable news.
"I think that we go down quite an interesting path if we start trying to fact check media in a free society", Aiken said, pointing out that national newspapers cover the same topics and events in sometimes wildly different ways, and that people should be able to consume news in the way that they see fit.
What he believes is important is to build media literacy, starting in school. Richt agreed. Indeed, Finland has already started teaching media literacy to children from age six.
She also agreed with Aiken that institutions that try to regulate facts undermined the principles of a free and open society, but that such an endeavour could be instigated by other groups in society. Finnish journalists had, of their own will, set up a public fact checking service, for example.
Winterstein drew the audience's attention to the European Digital Services Act, which aims to improve online safety and obligates large social media platforms and tech companies to remove hate speech and other illegal content from their networks. He said he hoped the Act would be replicated outside Europe.
The discussion moved on to communications capability within government including officials' ability to present data accurately and effectively through visualisations – which, though not new, was critical during the pandemic and is becoming more important in all areas of government communications.
Richt said that Finland's health and social affairs ministry has an in-house visual aid specialist but that it also recognises that it needs outside expertise "so I wouldn't say that it's a basic need for every communications team".
According to Aiken, UK government officials had had to relearn data visualisation skills during COVID, as many other countries had, to ensure the slides presented during the daily press briefings – showing rates of infection, for example – were statistically accurate and visually clear.
"I, as a press officer, started work in 1992 with a basic computer and a fax machine. I now recognise that unless we are able to take pictures, produce videos and visualise data, we will not be able to meet the expectations of those we work for, or more importantly, the public we serve," he said.
The final question put to panellists was how they thought the battle against misinformation and disinformation – and more generally trust in government – would play out in the years ahead.
Aiken said the world was going through an "information revolution" and highlighted a worrying new trend – that people "maybe less so in Helsinki but more so in London and even more so in Washington" were choosing not to consume news because they found it too depressing. He said this has been caused by consecutive shocks including the pandemic, Russia's attack on Ukraine, rising inflation and the cost-of-living crisis in some parts of the world. "That's a massive challenge for governments and trust."
He said the UK would work with the EU and other democratic partners through forums such as the G7 to address this.
"The world is going through a rocky, uncertain, volatile time and ultimately judgments are made by people based on the way that their democracies, their politicians, and their institutions perform. The battle against disinformation is real and it is not yet won. The battle for public trust is constant and ongoing. But by working together, I think that we can prevail."
In Richt's view, dialogue between governments and civil society is key, as is communicating with the public clearly, and providing media literacy education. Institutions that concentrated on these three things would be more likely to build or maintain a well-functioning society, she said.
Winterstein echoed Aiken's thoughts, emphasising the danger to society of "everybody sitting in his echo chamber consuming tailor-made news served up by algorithms… that really destroys the common space for exchanging views and arguing together about the big themes".
One "silver lining" he sees is that many of the big issues of the day – climate change, COVID, the economic situation, migration etc – are not national issues but global ones and that countries are recognising that they can't tackle them alone.
Cooperation within the G7, NATO, the EU and other forums was much needed, he said, but so too was engaging everybody "in a whole-of-society approach… it cannot be a conversation amongst only government or institutional communicators – it must be much, much broader".
To learn all this and more, you can watch the full Trusted voice: how government communications can gain trust in an era of misinformation webinar on our dedicated event page. The webinar was held on 24 November 2022.