Research reports
Here you can find research-based reports, produced by Global Government Forum and our partners and designed to help senior public officials both to improve their skills and expertise, and to develop their organisations' capabilities.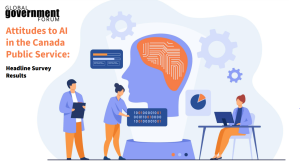 Global Government Forum research has revealed excitement and concern among public servants in Canada over the use of artificial intelligence in government.
GGF surveyed 1,320 public servants across the Canadian federal government to measure attitudes and awareness to the development and deployment of AI.
The survey found that more than one in ten Canadian public servants have used AI, such as ChatGPT, Bard or alternative applications, for work purposes, and the research also revealed the areas where there is greatest interest – and concern – over its use.
Public servants were most interested in the deployment of AI in processing a large amount of data, with 22% excited about this potential and 29% positive about the potential. Nearly half of officials were also either excited or positive (14% and 34% respectively) about the use of AI in real-time analysis and monitoring of public service delivery.
However, public servants raised concern about using AI for recruitment (19% concerned and 17% worried) as well as in communication and responses to ministers, citizens or colleagues (20% concerned and 14% worried), and policy design work (15% concerned and 15% worried).
Download the report here (pdf)
---
The vast majority of public servants in Canada are working remotely for at least part of their job, Global Government Forum research has found.
An exclusive survey of more than 1,300 public servants found that 82% of Canadian public servants currently work remotely, including 19% who work remotely full-time.
GGF's research has also revealed how much public servants value remote working. When asked to identify the most attractive benefits when looking for future employment, remote working is named as the top priority by respondents, highlighted by over three quarters of respondents (76%). Respondents rate remote working above other factors including an attractive salary, flexible working hours and a meaningful propose to their role – although all of these factors were highlighted by more than half of respondents. Over 76% of women see remote working at the most attractive benefit, only 69% of men do.
Download the report here (pdf)
---
A majority of public servants in Canada have experienced symptoms of burnout in the last year, according to research from Global Government Forum.
The exclusive survey also found that less than half of public servants believe their managers have a good understanding of mental health and wellbeing.
The survey was designed and carried out by Global Government Forum to measure the work-life balance of public servants across Canada, and received 1,320 responses between 5 June to 22 June 2023.
Overall, 58% of public servants rate their work-life balance as good or excellent, but a similar proportion – 57% – say they have experienced symptoms of burnout in the last 12 months.
This rises to nearly two-thirds (65%) of leaders and managers across the public service, and more women (59%) than men (53%) say they have experienced burnout.
The survey found that managers have noticed the impact of burnout on their staff. Among respondents who manage staff, 72% say that colleagues or team members have experienced symptoms of burnout.
Download the report here (pdf)
---
The global citizen experience survey, undertaken with knowledge partner Appian, reveals how public servants rate the quality of the services they provide for citizens – and how they rate the government and private sector services they use themselves.
The survey examined how public services are standing up to the pressures they face. The survey received 1,149 responses from government officials around the world and digs into the results from the eight most represented countries by number of respondents – Canada, Germany, Italy, Mexico, New Zealand, Spain, the United Kingdom, and the United States. The analysis provided a unique insight into the current state of public services – and where opportunities exist for improvement through digitization and automation.
Download the report here (PDF)
---
The responsive government survey, undertaken with knowledge partner PA Consulting, measures how public servants around the world rate the ability of their public service organisation to respond to unforeseen events.
This in-depth, global research into responsiveness explores the extent to which governments adapted to unforeseen events by surveying those working across civil and public services.
The two iterations of the report surveyed public servants around the world, allowing comparisons to be made about how confidence public servants are in their organsations responsiveness.
Compared to 2021, public and civil servants' confidence in 2023 declined, with fewer officials agreeing that their organisation excels at learning and responding rapidly to change. Confidence that public services can be improved has also fallen, and officials are also less confident in their organisation's contingency plans in the era of 'permacrisis'.
Read the 2021 and 2023 report in full to understand how governments are responding to the pressures of modern government across topics including:
Rethinking responsiveness
Embracing positive leadership
Going deeper with digital and data
Building a citizen-centric culture
Preparing for permacrisis
Responsive Government Survey 2023
Responsive Government Survey 2021
---
Technology has transformed every corner of our lives. From banking to shopping, and from communicating with friends to planning travel, digital services now dominate every sector – and government needs to keep up with the changing society.
However, to create the modern, digitised services that citizens expect, government needs to have the digital skills required for transformation. This requires both the digital skills in the civil service to embrace the possibilities opened up by technology – and modern technology to make sure that this potential can be realised.
To find out the scope of digital skills in government, Global Government Forum conducted in-depth research, supported by Google Cloud, to find out how UK civil servants judge both their skills, and the level of skill within their departments, across the essential digital, data and technology areas for modern government – and whether the technology available was fit for purpose for the transformation.
---
Many civil servants in the UK want to continue working flexibly after the pandemic, according to GGF research.
The vast majority of UK civil servants have adapted well to remote working and want to continue working flexibly after the pandemic, according to new research – though there are concerns around collaboration, security and data protection practices.
Some 73% of respondents said they can carry out all their responsibilities while working remotely, according to a new survey of 906 civil servants conducted by Global Government Forum and Dell Technologies. A further 22% said they can do most of their work from home.
More than nine in 10 respondents said they have all the tools they need to work remotely, while four-fifths have access to all the applications and datasets available in the office. About three quarters of those surveyed said their home broadband speeds are equal to or better than those in their usual workplace; and a similar proportion said they feel as well managed as they do when in the office.
Asked whether they'd like to work remotely more frequently in the future than they did prior to the pandemic, 82% of respondents agreed – with two thirds of them saying they "agree strongly". Moreover, 72% said that doing so would improve their wellbeing. Most also felt that this would increase civil service productivity, with 59% saying they're more productive working remotely; just 16% said that they're less productive.
---
Further information on the findings of the survey can be obtained by contacting Chris Punch, Research Director at: [email protected]
If you would like to explore ways that you can become a research knowledge partner, please contact our Commercial Director, George O'Grady: g.o'[email protected] or call +44 (0) 20 7661 7810