Off the shelf and on the money: tech buying frameworks
Image by freepik.com
Knowledge Partner
Over the last decade, civil service digital and commercial leaders have begun introducing technology buying frameworks – curating lists of pre-approved tech suppliers, products and services to aid purchasing across government. And as countries continue to shift towards platform services and SME procurement, such frameworks are becoming both more common and better used: spending through the UK's digital frameworks, for example, rose by a record £800m (US$1.1bn) to £3.2bn (US$4.4bn) in 2020-21.
For both suppliers and procurement officers, tech buying frameworks cut the cost of administration – guaranteeing suppliers' compliance with due diligence and pre-approval requirements, so they need not be checked for each tender response. They can also enable buyers to combine requirements, realising economies of scale, and help smaller civil service bodies whose digital teams lack the capacity or expertise to buy advanced technologies.
What's more, as governments move towards 'platform services' and Cloud computing, civil servants are finding new reasons to use buying frameworks. For as central digital leaders set out government-wide standards, governing tech such as APIs and data formats, these can be integrated into buying frameworks – ensuring that purchases will connect with systems across the civil service. And Cloud – a highly scalable product subject to tight quality standards – is perfectly suited to framework procurement.
Providing new markets to suppliers, confidence and compatibility to buyers and cost savings on both sides, civil service tech buying frameworks look set to grow in both coverage and capacity over the coming years. At this GGF webinar, experts from the public and private sectors explained what they've learned about how best to introduce, operate and develop these digital marketplaces.
Panel
Rotem Einav, Digital Israel National Bureau
Rotem manages digital products related to human capital in the public sector. She designed and launched, together with the Government Procurement Administration, the "Digital Services Tender", which enables the government to purchase services in a wide range of digital expertise, from boutique companies and freelancers to large scale suppliers. This project is part of a strategy that was created to bring the "Start-up Nation" into the government in terms of human capital, positions and roles, organizational culture and jargon, methodologies and tools.
Prior to entering the civil service, Rotem worked at several startups and digital organizations as a project manager.
Rotem holds an MBA in Public Policy from Bar-Ilan University. and a BA in Management and Psychology from Tel-Aviv University.
Elodie Bouneau, Director of Platform, Canadian Digital Service
Elodie Bouneau is the Director of Platform at the Canadian Digital Service (CDS). CDS partners with government departments to improve how they deliver digital services to people in Canada. At CDS, Elodie's main focus is the development of platform components like Notify, which enables public servants to send notifications to the public free of charge. Before joining the government, Elodie focused on using the platform to transition companies in traditional industries such as publishing, medical, and hospitality, into modern, digitally-empowered organisations.
Sal Uddin, Commercial Director, Technology Solutions & Outcomes, Crown Commercial Service, United Kingdom
Sal Uddin is the Commercial Director for Technology Solutions & Outcomes at Crown Commercial Service, recently winning the 2021 Government Commercial Function Leadership Award for Supplier Management. Sal is a commercial executive, delivery & change leader, who has worked in complex and challenging environments in the public and private sectors. This includes line responsibility in major departments of state for categories including Estates, FM, Food, Overseas Aid Budget, Security and Technology. Before joining CCS, Sal was the Interim Commercial Director at the Foreign & Commonwealth Office. Sal has a track record of problem-solving and working with senior stakeholders and suppliers to deliver innovative solutions and significant savings and is an expert at using relationships and negotiation to maximise the value that buyers obtain from contracts over their life.
Cristina Caballé, Executive Director, IBM Global Public Sector, Business Development
Cristina Caballé Fuguet is Executive Director of IBM Global Public Sector, one of the key strategic units offering all IBM's technology and services tailored to clients in the Government industry.
Cristina has led and contributed to large transformational projects with different Central and Local Government clients in Spain, Germany, France, Netherlands, UK, U.S., Belgium, Italy, Denmark, Finland, Czech Republic, Poland, Portugal, Greece, Hungary and Israel, among others. She has contributed to the development of many advanced Tech Buying Frameworks for Governments across the globe.
Cristina received a degree in Telecommunications Engineering from the "Universitat Politècnica de Catalunya" in Barcelona (Spain). She earned her MBA from Henley Management College in London (UK). She is a member of several industry boards and committees, including EU Commission Initiatives. She is a Member of IBM Industry Academy for Government Industry. She speaks Spanish, English, Catalan, German, French, Italian and Hungarian.
Webinar chair: Siobhan Benita, former UK senior civil servant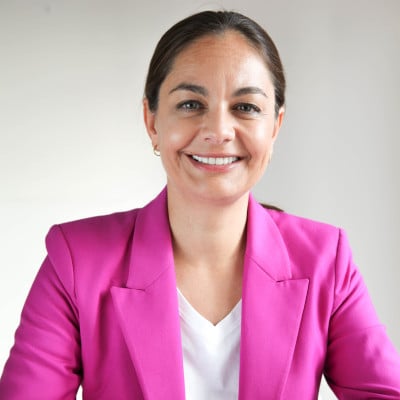 Siobhan Benita was a senior civil servant with over 15 years' Whitehall experience. She worked in many of the major delivery departments, including Transport, Environment, Health and Local Government. She also had senior roles at the heart of Government in the Cabinet Office and HM Treasury, including supporting the then Cabinet Secretary, Lord O'Donnell to lead work on Civil Service reform and strategy. Siobhan left the Civil Service to run as an independent candidate in the Mayor of London election. She subsequently joined her alma mater, Warwick University as Chief Strategy Officer of Warwick in London and Co-Director of the Warwick Policy Lab.