What Role for Fintech in Driving Financial Inclusion In The Developing World?
Knowledge Partner
Read our report on this event
Organised by:
Governments in the developing world are increasingly turning to fintech solutions to help improve levels of financial inclusion. Goals range from reaching the 'unbanked' to achieving gender equality in financial services. Fintech solutions include encouraging the use of smart-phones for mobile payments, including the distribution of government payments, and digitising transactions more broadly. But there are many challenges, ranging from ensuring sufficient scale and reach; infrastructure challenges with mobile reception in rural areas; cultural challenges relating to lack of trust in certain institutions; through to technical or regulatory questions relating to areas such as interoperability and data privacy. How effective are fintech solutions at helping with financial inclusion? What obstacles and challenges do they face? And what can governments do to help to ensure that innovations meet the needs and expectations of citizens – and are simple, secure and affordable?
Panel
Patricia Ellen, State Secretary, Economic Development, Science and Technology, State of São Paulo, Brazil
Patricia Ellen is currently the Secretary of Economic Development, Science and technology of the State of São Paulo.
Patricia has been Young Global Leader since 2016 of the World Economic Forum in recognition of her achievements on digital innovation, education and economic development in government.
She also lectures Leadership and Digital Innovation at the Master of Public Management Program of the Center for Public Leadership (CLP); she holds both an MPA (Harvard Kennedy School) and an MBA (Insead).
Patricia was the CEO of Optum Brazil until 2018 and previously a partner at McKinsey & Company for nearly 18 years. Focused on Public Sector challenges, she led projects in Education, health, Economic Development, with special focus on Digital Government Innovation. She is co-founder of "Movimento Agora!", which seeks to modernize public policy provision and management by promoting social engagement, to build a more humane and sustainable country.
Ana Maria Prieto, Deputy Director, Ministry of Finance, Unit of Financial Regulations, Colombia
Mrs. Ana Maria Prieto is currently Deputy Director at the Unit of Financial Regulation of Colombia where she has actively worked on the design and implementation of the strategy of financial innovation and inclusion in Colombia. A native of Colombia, Mrs. Prieto has much experience in the financial sector, particularly in the topics of payment system, development polices and securities market regulation and supervision. She previously worked at the Colombian Securities Self-Regulatory Organization as Director of Regulation and Deputy Director of FX Market Surveillance. Before that she was Senior Economist at the Colombian Banking Association. Mrs Prieto holds a Master in Public Policy from Universidad de los Andes (Colombia), a Master in Economics and a postgraduate course in Capital Markets Law from Universidad Javeriana (Colombia). She graduated as an Economist from Universidad Javeriana of Colombia in Bogotá.
Venkatramu Jayanthy, MD & CEO, India Post Payment Bank
With over 24 years of work experience in various functions of banking with core competence in the areas of Business Strategy, Product Development and Digital Financial Services with a deep understanding of technology as an enabler.
Prior to India Post Payments Bank, he has worked with leading banking institutions such as Bank of Baroda, Axis Bank and Equitas SFB in various roles spanning across Project Lead and Domain Expert on Payment Products and Inclusive Banking. During his last assignment with Equitas Small Finance Bank as the Chief Digital Officer, Venkat has been part of the founding team for the Bank and is credited with creating a digitally enabled Banking access through multiple payment systems and channels, thereby leading to business growth and differentiated customer experience. Venkat has also been a key industry spokesperson and is closely engaged with the government and regulatory institutions in policy formulation in a rapidly evolving industry.
Venkat has demonstrated his acumen in launching new businesses, by identifying and capitalizing on business, market and process opportunities; leveraging technology to drive revenue, streamlining operations and improving client experience. He is skilled at driving innovation for top and bottom line growth. Venkat has successfully led cross-functional teams to deliver change in complex and challenging environments. He has extensively worked in the financial inclusion space leveraging fintech and digital led innovation to make a difference Venkat has graduated in Mathematics and Economics from Osmania University and completed the Executive Management Programme from Indian Institute of Management, Kolkata.
Farid Osmanov, Executive Director, Central Bank of the Republic of Azerbaijan
Mr. Osmanov has 16+ years of experience in information technologies, implementing a number of digital transformation initiatives in banking sector. During his professional career, Mr. Osmanov focused on both adoption of information and payment systems, covering ever-changing business needs and business process optimization to improve the effectiveness and efficiency of business process management. Nowadays, his main strategic focus is to establish cashless economy and accelerate the creation of a digital ecosystem in Azerbaijan.
Mr. Osmanov holds MSc on information systems and management; and certified as ITSM expert, practitioner in project management and ISO/IEC 27001 information security standard implementer.
Darren Ware, Vice President, Government Engagement, Latin America and Caribbean, Mastercard
Darren is Vice President of Government Engagement for Mastercard, Latin America and the Caribbean. In this role, he engages with local and national public sector leaders to support governments on their digital transformation efforts, financial inclusion and modernization of public finance management. He has worked across Latin America and the Caribbean for 20+ years, always in technology with a focus on national digital agendas, Smart Cities, digital inclusion and Public Sector digitization.
Before Mastercard, Darren was at Cisco Systems for 14 years in a variety of roles across global including, Emerging Markets and Latin America teams. He worked both in strategy and business development roles, including building a City Diagnostics model to benchmark Emerging Markets city efforts against global best practices, and drove Country Digital Acceleration efforts with key national governments in Latin America.
Darren has been based in Miami since 1999, while originally from South Carolina. He holds both his undergraduate and Master of International Business Studies (MIBS) degrees from the University of South Carolina. He is fluent in Spanish and Portuguese and has lived in Spain, Argentina and Brazil.
He brings expertise in developing growth strategies using fact-based analysis and understanding of enterprise and payment technology markets. Practiced at using consulting skills and analytical ability to develop pragmatic strategic recommendations for an executive audience. Over his career, he has developed a global perspective and cultural awareness built from broad on-the-ground international experience, including speaking both Spanish and Portuguese.
Webinar chair: Siobhan Benita, former UK senior civil servant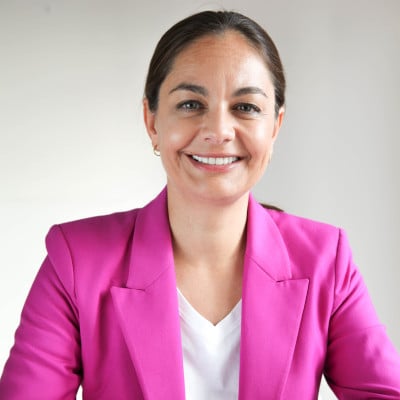 Siobhan Benita was a senior civil servant with over 15 years' Whitehall experience. She worked in many of the major delivery departments, including Transport, Environment, Health and Local Government. She also had senior roles at the heart of Government in the Cabinet Office and HM Treasury, including supporting the then Cabinet Secretary, Lord O'Donnell to lead work on Civil Service reform and strategy. Siobhan left the Civil Service to run as an independent candidate in the Mayor of London election. She subsequently joined her alma mater, Warwick University as Chief Strategy Officer of Warwick in London and Co-Director of the Warwick Policy Lab.