Four in five Canadian public servants raise AI accountability concerns
Image by Pixabay.com
Exclusive Global Government Forum research has revealed excitement and concern among public servants in Canada over the use of artificial intelligence in government.
GGF surveyed 1,320 public servants across the Canadian federal government to measure attitudes and awareness to the development and deployment of AI.
The survey found that more than one in ten Canadian public servants have used AI, such as ChatGPT, Bard or alternative applications, for work purposes, and the research also revealed the areas where there is greatest interest – and concern – over its use.
Read in full: Attitudes to AI Canada Public Service Survey 2023
Public servants were most interested in the deployment of AI in processing a large amount of data, with 22% excited about this potential and 29% positive about the potential. Nearly half of officials were also either excited or positive (14% and 34% respectively) about the use of AI in real-time analysis and monitoring of public service delivery.
However, public servants raised concern about using AI for recruitment (19% concerned and 17% worried) as well as in communication and responses to ministers, citizens or colleagues (20% concerned and 14% worried), and policy design work (15% concerned and 15% worried).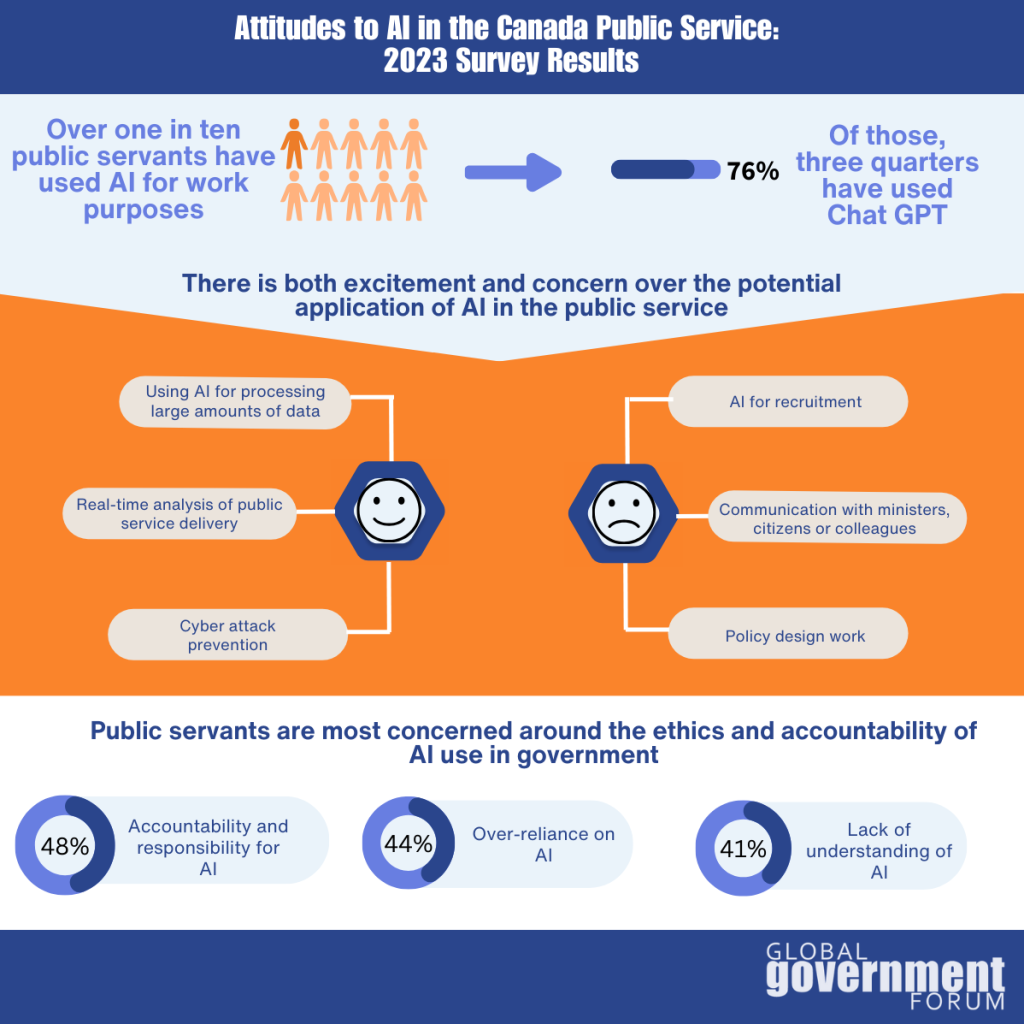 Public servants were specifically asked about areas of ethics concern around the use of AI in government. Accountability around AI systems was highlighted as the key concern, with 81% of officials saying they were concerned about accountability and responsibility for AI-based decisions and actions.
Other key accountability concerns highlighted by officials were an over-reliance on AI leading to a lack of public service autonomy and decision-making capabilities (44% of public servants are very concerned, 31% somewhat concerned) and public servants' lack of understanding and familiarity with AI (41% very concerned, 35% somewhat concerned).
Read more: One in ten Canadian public servants already using AI for work purposes
The survey was designed and carried out by Global Government Forum – the publishing house for civil and public servants around the world. More information on the survey can be found in this summary. If you would like to explore ways that you can become a research knowledge partner, please contact our commercial director, George O'Grady: george.o'[email protected]

Read the other reports from this survey:
Hybrid and Remote Working Canada Public Service Survey 2023
Wellbeing in the Workplace Canada Public Service Survey 2023