Adapting for individuals: creating inclusive workforces in the era of hybrid working
Pic by Pexels.com
Read our report on this event
Register your interest for the global public service disability, diversity and inclusion network
The move to greater hybrid and remote working at the start of COVID-19 pandemic was required to keep public services running amid lockdowns and restrictions to slow the spread of the virus. Many government organisations and employees have found that reducing the number of days in the office improves productivity and work-life balance, so plan to maintain such arrangements in the future.
Organisations need to ensure that hybrid working arrangements enable dignified, efficient, safe and equitable access for every employee to the tools and flexibility that they require. Employees may still need, and indeed may well be entitled to, reasonable adjustments to make sure they are able to work effectively, be they working remotely or on site.
This webinar looked at the best practice in delivering the reasonable adjustments for colleagues at every level of seniority working both at home and in the office – to enhance productivity and employee engagement while reducing sickness absence and the costs associated with managing grievances. This will ensure that hybrid workforces remain disability confident workforces.
Panel
Dr Alice Maynard CBE, Director, Future Inclusion & Non-Executive Director, Financial Conduct Authority and HMRC
Alice founded and runs Future Inclusion as an executive coach and adviser, helping leaders improve organisation performance through inclusive practice. She currently sits as a NED for the Financial Conduct Authority, where she chairs the Remuneration Committee, and HMRC, where she chairs the People Committee and the Government Commercial Office Remuneration Committee. Alice has been Board Chair for large Charities, overseeing improvements in governance, strategic planning, and operational delivery.
Luna Bengio, Senior Accessibility Expert, Office of Public Service Accessibility, Treasury Board of Canada Secretariat
Luna joined the Office of Public Service Accessibility when it was established in August 2018 where she was the Principal Advisor to the Deputy Minister until her retirement in June 2021. Since then, Luna is supporting both the Office of Public Service Accessibility and Shared Services Canada's Accessibility, Accommodation and Adaptive Computer Technology Program. Luna provides strategic advice on a range of accessibility and inclusion issues, such as workplace adjustments, information and communications technologies, and culture change. She also contributes to several key initiatives, including the review of policies from an accessibility perspective and the development of the Government of Canada Workplace Accessibility Passport. Prior to this, as Executive Director of Executive Policies, Luna was responsible for all policies and programs related to the management of executives in the Canadian public service, including compensation, terms and conditions of employment, performance management, and leadership development.
Michelle Phooko, Director, Talent & Performance Management, European Bank for Reconstruction and Development (EBRD)
Michelle Phooko, is currently the Talent & Performance Director for EBRD. She joined EBRD in 2019 and is responsible for the Diversity and Inclusion strategy at the Bank. Working with her team, Michelle has worked to broaden the D&I strategy focusing on encouraging staff to "bring their best self to work". This has meant enabling staff through policy review, workplace adjustments, flexible working, accessibility and opening up the conversation on mental health/well-being.
——————————————————————————————————————-
Dr Nasser Siabi OBE, CEO, Microlink PC, UK
Nasser is the CEO of Microlink and one of the founding members of the Business Disability Forum (BDF) technology task force since 2010, the British Assistive Technology Association (BATA) and part of the DWP Disability Employer Engagement steering group. He has 30 years' experience working in the assistive technology sector and in 2009 and 2020 Nasser won the IoD Director of the year award. Included in his accolades are the OBE for services to disabled people, the British Dyslexia Association (BDA) and the National Association of Disability Practitioners (NADP) lifetime contribution awards. He has a Phd in Computer Science from the University of Southampton.
Andy Garrett, Global Programme Director – Workplace Adjustments Service, GSK
Andy Garrett is GSK global programme director – Workplace Adjustments Service – enabling employees to request and receive the adjustments/accommodations/accessibility solutions they need to be their best selves at work, including for working remotely.
Andy is member of GSK Global Disability Council (GDC) in his capacity as co-lead for GSK's global Disability Confidence Network employee resource group. Providing employee voice and disability subject matter expertise support to key disability inclusion workstreams led by the Disability Council. Andy is also a founding ambassador for Purple Space.
Webinar chair: Siobhan Benita, former UK senior civil servant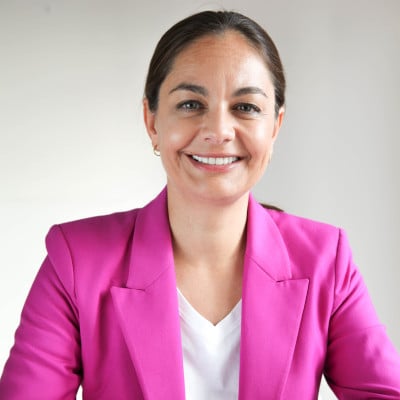 Siobhan Benita was a senior civil servant with over 15 years' Whitehall experience. She worked in many of the major delivery departments, including Transport, Environment, Health and Local Government. She also had senior roles at the heart of Government in the Cabinet Office and HM Treasury, including supporting the then Cabinet Secretary, Lord O'Donnell to lead work on Civil Service reform and strategy. Siobhan left the Civil Service to run as an independent candidate in the Mayor of London election. She subsequently joined her alma mater, Warwick University as Chief Strategy Officer of Warwick in London and Co-Director of the Warwick Policy Lab.