How can AI help public authorities save money and deliver better outcomes?
Image by Pixabay.com
Knowledge Partner

Read our report on this event
Artificial intelligence (AI) – the simulation of human intelligence processes by machines – is being used by a growing number of governments and public authorities.
This Global Government Fintech webinar will seek to explore how central government departments worldwide are using AI to help with tasks related to public finances. More specifically, it will focus on how AI is helping public authorities save money, become more efficient and deliver better outcomes – from automating repetitive tasks to helping with spending allocation decisions and identifying fraud.
The webinar also sought to identify and explore areas where AI may have the greatest untapped potential for governments (related to public finances).
Questions include:
In which areas of service delivery (related to public finances) are AI solutions proving most useful, and how?
What have governments learned about the opportunities, risks and challenges when using AI tools?
How are governments handling concerns such as 'algorithmic bias'?
How can and should governments keep up to date on AI solutions?
What are the biggest challenges with procuring and implementing AI solutions?
#AIFinance
Panel
Peter Kerstens, Advisor, Technological Innovation & Cyber Security, Financial Services Department, European Commission
Peter advises on Technological Innovation, Digital Transformation and Cybersecurity at the European Commission's financial services department. He has led work on the European Commission's Fintech Action Plan and Digital Finance Strategy and Co-chaired the European Commission's Fintech Taskforce. He is often referred to as the spiritual father of the recently agreed landmark EU Digital Operational Resilience Act (Dora) Regulation and the EU Markets in Crypto Assets (Mica) Regulation.
Peter has extensive experience and expertise in EU policy and regulation covering financial services, digitalisation, security, sanctions, consumer protection as well as health and food safety. Earlier in his career, Peter was Finance Counsellor at the EU Embassy in Washington DC. He has also been a member of the private offices of the commissioner for the internal market and services and the commissioner for health and consumer protection.
Before joining the European Commission, Peter advised major financial services companies on EU policy and regulatory affairs. He is a Dutch national and holds master degrees in European affairs and political science from the College of Europe in Bruges and the University of Leuven, Belgium.
Stela Solar, Director, National Artificial Intelligence Centre, Australia
Over the past 15 years, Stela has cultivated expertise in capturing new revenue opportunities presented by emerging technologies, particularly through business model transformation. With most recent experience as Global Director of AI Solutions Sales and Strategy at Microsoft, Stela's experiences across business development, strategy, ecosystem development, marketing and product management inform her insights surrounding cross-organisational factors affecting an organisation's ability to capture an advantage.
Stela has lived in the USA for the past 7 years and previously in Australia where she worked at Microsoft as well as channel partners Ingram Micro, Express Data, and web security startup.
Sam Cannicott, Deputy Director, Centre for Data Ethics & Innovation, Department for Digital, Culture, Media and Sport, United Kingdom
Sam Cannicott is Deputy Director of Projects at the UK Government's Centre for Data Ethics and Innovation. In this role he leads the Centre's collaborative work with other organisations, supporting them to develop and deploy data driven technology responsibly. His project portfolio includes work with police forces, the Ministry of Defence, local authorities and the Department for Education. Before joining the Centre, Sam worked in the New Zealand civil service where he led a public engagement programme exploring citizens' views of how data about them should be used and shared. He has previously worked in multiple policy roles with a particular focus on the education sector.
Steve Keller, Acting Director of Data Strategy, Bureau of the Fiscal Service, U.S. Department of the Treasury
Steve Keller serves as the Acting Director of Data Strategy at the Bureau of Fiscal Services within the Department of Treasury. He oversees and provides leadership on a broad range of research projects and assists the Chief Data Officer in building scientific and technical capabilities within the Bureau. Since 2006, he has designed data science models for operations, finance and is an active competitor on Kaggle.com – Google's competition platform for data scientists. Previously, he worked as a statistician at the US Census Bureau and as a data scientist at the General Services Administration. He holds a MEng in Systems Engineering from Cornell University and a BA in Economics from SUNY Oswego.
Dr Joseph Castle, Advisor for Strategic Relationships and Open Source Technologies, SAS
Dr. Castle serves as an advisor for SAS, assisting U.S. public sector agencies with understanding data analytics, artificial intelligence (AI), machine learning (ML), cloud-based environments, development operations (DevOps), and open source software (OSS). He has served over twenty years in the U.S. federal government. In the General Services Administration (GSA), he led numerous programs for the office of the Chief Information Officer and Technology Transformation Services. Through education of and collaboration with major federal agencies, Dr. Castle directed the federal government's Open Source Program Office (OSPO) to implement the federal source code policy. A veteran, Dr. Castle served in the U.S. Army's 10th Mountain Division. He is a Fed100 recipient and a GitHub Star. Dr. Castle holds numerous advanced academic degrees including an MBA, MS in information systems, and a PhD in public administration and public affairs.
Webinar chair: Siobhan Benita, former UK senior civil servant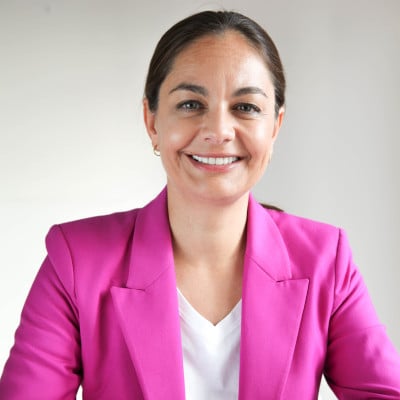 Siobhan Benita was a senior civil servant with over 15 years' Whitehall experience. She worked in many of the major delivery departments, including Transport, Environment, Health and Local Government. She also had senior roles at the heart of Government in the Cabinet Office and HM Treasury, including supporting the then Cabinet Secretary, Lord O'Donnell to lead work on Civil Service reform and strategy. Siobhan left the Civil Service to run as an independent candidate in the Mayor of London election. She subsequently joined her alma mater, Warwick University as Chief Strategy Officer of Warwick in London and Co-Director of the Warwick Policy Lab.