How can fintech help women's financial inclusion in the developing world?
Photo by Andreas from Pexels
Read our report on this event
Organised by:
Women in developing economies are less likely than men to have a bank account. Such financial exclusion typically means that women are unable to access many formal financial services, which has further consequences for their lives more broadly.
As an example, Pakistan's national payments strategy highlighted that, as of 2019, only 21.3 per cent of adults in the country have a transaction account and, of these, only seven per cent are held by women.
But the political attention being given to financial inclusion, particularly for women, in developing countries is growing, fuelled by global targets such as gender equality's status as one of the 17 UN Sustainable Development Goals (SDGs).
Alongside this progress we are witnessing the growth in availability of fintech solutions, fuelled by developments in mobile-phone availability and technology, as well as the trend towards financial digitalisation that has been hastened by the Covid-19 pandemic.
As an example, the World Bank and Bill & Melinda Gates Foundation, alongside the Global Call to Action Against Poverty (GCAP) network and Women's World Banking, published a report in 2020 – 'Digital Cash Transfers in the Time of Covid-19: Opportunities and Considerations for Women's Inclusion and Empowerment' – setting out considerations for policymakers.
This Global Government Fintech webinar asked questions such as:
What obstacles exist to achieving women's financial inclusion?
Which fintech solutions are governments using (or encouraging the private sector to roll out) to help?
To what extent is there untapped potential for fintech solutions to help further and how can obstacles best be overcome?
#FintechInclusion
Panel
Hillary Miller-Wise, Deputy Director, Financial Services for the Poor, Bill & Melinda Gates Foundation
Hillary is Deputy Director on the Financial Services for the Poor team at the Bill & Melinda Gates Foundation, where she leads a team that focuses on the development, distribution, and use of financial services for the unbanked, especially women. Before joining the foundation in 2021, Hillary built the on-demand delivery business in Africa for the e-commerce company Bolt. She also served as CEO of two award-winning startups in agricultural technology and financial technology. Earlier, she led operations in Tanzania for TechnoServe and Africa operations for Grameen Foundation. She started her career in microfinance at FINCA International, where she became the youngest director of one of the network's microfinance banks.
Hillary has a master's degree in international economics from Johns Hopkins University's School of Advanced International Studies and an MBA from INSEAD, where was awarded a Social Entrepreneurship Scholarship.
Rui Xu, Economist, Asia Pacific Department, International Monetary Fund (IMF)
Rui Xu is an economist at the IMF's Asia Pacific Department, working on Japan and Tonga. Previously she worked at the IMF's Institute for Capacity Development delivering training to authorities in Vienna and Kuwait. She also participated in the EFF-supported program with Mongolia and the Article IV consultation with Korea. Her research interests include productivity growth, fiscal rules and policies, gender inclusion and financial access. Her work has been cited by the Economist and Politico, among others. Rui Xu holds a Ph.D. in Economics from Stanford University.
Maria Perdomo, Regional Coordinator for Asia, United Nations Capital Development Fund (UNCDF)
Maria Perdomo became UNCDF's Regional Coordinator for Asia in 2020 and brings with her 15 years of experience working with public and private sector stakeholders to bring finance to the most excluded in Least Developed Countries across the globe. In her previous role as UNCDF's Youth Finance Lead, Maria brought access to financial services to close to 1,000,000 youth of which 60% are young women and girls, unlocking almost US40M in loans from domestic sources in Sub-Saharan Africa.
A national from Colombia, prior to joining UNCDF in 2010, Maria worked in the private sector developing client centric financial services and building financial capabilities for migrants in New York City and providing technical assistance to financial services providers in Peru, Bolivia, India, Mali, Burkina Faso, and Uganda.
She has a master's degree in International Affairs from Columbia University's the School of Public and International Affairs (SIPA), and a Bachelors Degree from Universidad Externado de Colombia and l'Institut de Sciences Politiques de Paris (Sciences-Po). She is fluent in Spanish, English and French; and has advanced conversational skills in Italian.
Webinar chair: Siobhan Benita, former UK senior civil servant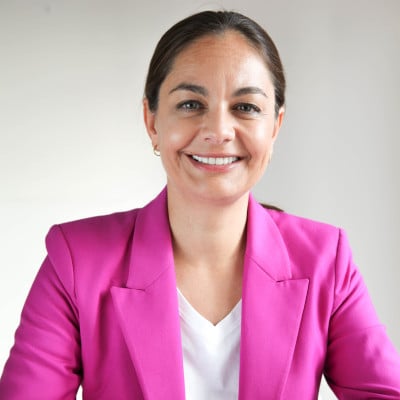 Siobhan Benita was a senior civil servant with over 15 years' Whitehall experience. She worked in many of the major delivery departments, including Transport, Environment, Health and Local Government. She also had senior roles at the heart of Government in the Cabinet Office and HM Treasury, including supporting the then Cabinet Secretary, Lord O'Donnell to lead work on Civil Service reform and strategy. Siobhan left the Civil Service to run as an independent candidate in the Mayor of London election. She subsequently joined her alma mater, Warwick University as Chief Strategy Officer of Warwick in London and Co-Director of the Warwick Policy Lab.