'Self-regulation has failed': former UK Treasury chief backs civil service appointment overhaul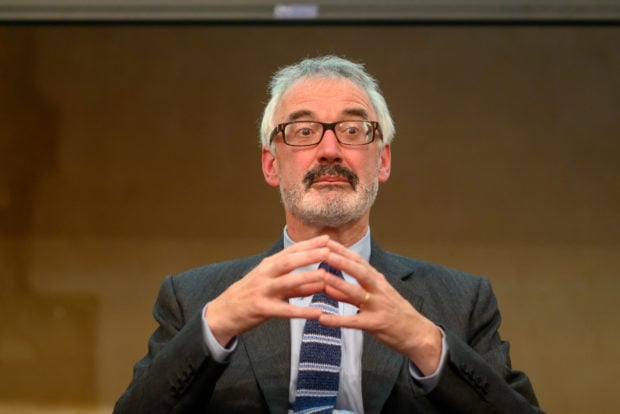 Nick Macpherson described the UK civil service is an unaccountable "closed shop". Photo courtesy Strand Group, KCL.
The former head of the UK Treasury has backed calls for greater external oversight of civil service appointments, warning that the current system of allowing departments to regulate their own appointments is no longer fit for purpose.
Lord Nick Macpherson, who led the finance ministry from 2005 to 2016, made the call in the foreword to a Policy Exchange report calling for rules to ensure that civil service jobs are opened up to competition to be strengthened.
The paper, Open, Meritocratic and Transparent, called for an overhaul to how civil service appointments are made to end the "personal patronage" that still decides some appointments. Among its recommendations is a call to boost the powers of the Civil Service Commission – the body that regulates recruitment in Whitehall – to allow it to investigate internal recruitment competitions and to annul appointments made improperly.
Macpherson said that such changes were needed because "self-regulation has failed".
He added: "The Treasury's effectiveness in the 21st century has been much enhanced by opening up senior positions to competition. Ventilating the department to greater competition encouraged everyone to raise their performance, discouraging complacency and incentivising Treasury lifers such as myself to raise our game."
The report highlights that many internal civil service appointments are exempt from the obligation to select on merit following an open competition. As a result, many of the top jobs in Whitehall remain unadvertised with appointments often made without any competition taking place – including, recently, the director in the Cabinet Office responsible for Civil Service Modernisation and Reform.
"Save for limited exceptions, there is no independent oversight to assure the probity of the appointments process unless a senior civil service vacancy is advertised to external applicants," the paper said. As part of its recommendations, it argued for mandatory reporting requirements specifying "when, why, and how exemptions to the 'external by default' rule are exercised".
The current statutory rules covering civil service appointments should be updated to ensure that internal recruitment is not excluded from legislative oversight and to ensure they fulfil the values of impartiality enshrined in the 1854 Northcote-Trevelyan report.
Open to all
In May this year, the government set out its Declaration on Government Reform, the aim of which in part is to make the civil service "more open to external talent, with all senior civil service roles advertised externally". However, Policy Exchange warned in its paper: "This ambition has been shared by successive governments for the past two decades".
The think tank pointed out of that the Civil Service Commission remains "heavily under-resourced", with a part-time first commissioner and a secretariat of less than 20 full time equivalent staff. It recommends making the role a full-time position with paid "commensurate with the gravity and importance of the role". In its recommendations it also called for the first commissioner role to be filled by someone who was not previously filled by a civil servant, and for the commission to be more accessible to individual civil servants with complaints of potential misconduct.
It also said that the Greensill affair indicated the need for change. Financier Lex Greensill was named an external consultant to government in 2012, and a subsequent review of his appointment found it had been had been overseen by then UK cabinet secretary Lord Heywood and Greensill then used to advance his private business interests in supply chain finance. In its paper, the think tank calls the revelations "deeply concerning but… by no means unprecedented".
The paper also urged government to revisit the Baxendale report, which was commissioned in 2014 to analyse some of the experiences of external hires to senior levels of the civil service. The report highlighted a "resistance to change and a closed mentality" among senior civil servants. One of its key recommendations was for the civil service to revisit the topic six to 12 months after its publication. This did not happen, according to Policy Exchange.

"As [we've] highlighted… this exercise should now be repeated, and a skilled outsider should be brought back to explore the progress since the Baxendale report was published," it said.
The paper has also been backed by Cabinet Office minister Steve Barclay, who said that government "must ensure that all civil service appointments are on merit and ensure that we attract the best outside talent into the senior civil service". He added: "We must open up the highest echelons of public service if we are to meet the challenges of the modern world, and deliver the public services people rightly expect."