UK's last EU commissioner promises continued security cooperation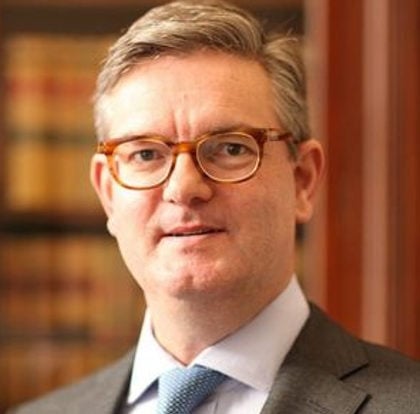 Sir Julian King, Britain's new European commissioner
Britain's new European commissioner – who is likely to be the country's last – has pledged to encourage a post-Brexit Britain to engage with Europol, the EU's law enforcement agency.
Sir Julian King, the former UK ambassador to France, officially took on the security brief for the EU's executive body on 15 September, when MEPs voted 394 to 161 in his favour at the European Parliament in Strasbourg. He's expected to remain in post until the UK finally leaves the EU, following the two-year Article 50 process.
King said the UK would have to continue working with the EU on counterterrorism and combating crime. "The jihadi terrorists do not make any distinction between Brussels, Paris and London and do not make any distinction between the relationship a country has with the European Union," he said at a hearing in Strasbourg on 12 September.
During the three-hour hearing, King answered questions from MEPs on his objectives and suitability for the role of commissioner for security. He side-stepped several questions on Brexit, mainly from UKIP MEPs, emphasising that he was not "a spokesman for the British government".
But he did mention one of the UK's current dilemmas – whether to sign up to a reinforced Europol, which will have additional powers to tackle terrorism from May 2017.
"I want to be clear that I think that Europol is an excellent organisation that does a fantastic job," said King. "If confirmed in this role I would do everything I can to champion it, and I would do everything I could to encourage member states… to engage with it."
King warned that if the UK decides to opt out of Europol there would be a gap between the agency gaining new powers next year and the date the UK finally exits the EU, which is when the country could negotiate a new relationship with Europol. Britain could lose access to hundreds of databases in the interim.
"So, in my discussions with the UK, one of the points I would want to make to them is that surely it is in everybody's collective interest to avoid such a gap opening up," he said.
Speaking in the UK Parliament last week, Brexit secretary David Davis also gave a strong hint that the UK would seek to remain a part of the EU's security and policing arrangements.
King replaces Jonathan Hill, who announced his resignation a day after Britain's EU referendum in June. European Commission president Jean-Claude Juncker reassigned Hill's financial services portfolio – which had much wider reach over national governments – to Latvian commissioner Valdis Dombrovskis. Security is a completely new brief.
Hannah White, programme director at think tank the Institute for Government, told Global Government Forum: "The allocation of the security brief to the UK's new commissioner reflects the EU's interest in retaining British involvement in security matters."
The UK holds significant expertise and has been at the forefront of EU policy development in security, she added.
Career civil servant King joined the Foreign Office in 1985, and has previously served as the UK ambassador to Ireland and UK representative on the EU political and security committee.
The European Commission is made up of 28 commissioners – one from every member state.
For up to date government news and international best practice follow us on Twitter @globegov
Lord O'Donnell, former Cabinet Secretary and Head of the Civil Service, UK: Exclusive Interview
A guide to Brexit, part 1: how Britain voted to leave the EU
A guide to Brexit, part 2: What's the process for negotiating a British exit from the EU?
A guide to Brexit, part 4: Is Britain's departure from the EU inevitable?
A guide to Brexit, part 5: What is the likely outcome of Brexit?