Shutting up shop? How hybrid working will force urban centres to diversify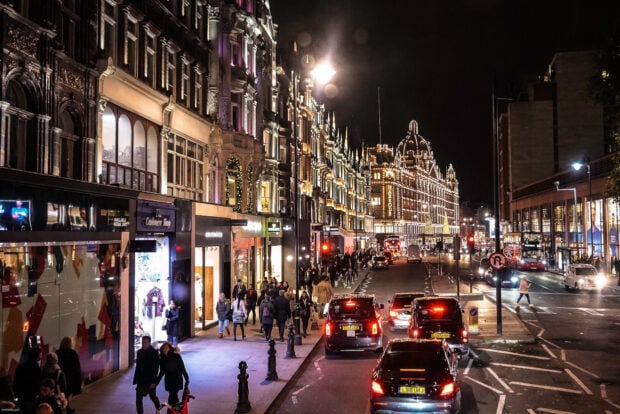 Experts suggested that while high streets will not disappear, they will have to focus on areas other than retail. Credit: Dmitry Vechorko/Unsplash
The future of hybrid working brings many benefits for organisations and professionals. At a recent webinar, experts discussed what this could mean for the future of city and town centres – and how public policy should respond.
"In my business, we employ 650 staff nationally. And the data that we've gathered internally at the moment shows us that only around 10% of those people will be returning to a fully office-based work model in the future," said Andrew Almond, a partner at property, infrastructure and construction consultancy Pick Everard.
"The remainder are going to be hybrid working. So, I suspect that in the 12 cities where we have offices, our footfall is going to drop by something in the order of 30%," he noted.
Almond's calculation lays bare the scale of the challenge facing the UK government and individual organisations as they grapple with the future of hybrid working. Almond was speaking at a webinar – organised by Global Government Forum and WT Partnership – on the opportunities and challenges raised by flexible working.
And while it benefits professionals and organisations alike – with improved work-life balance and productivity – the panellists also explored how it has accelerated existing challenges for city and town centres that could force them to adapt away from solely focusing on retail.
The benefits of hybrid working
The genie is now fully out of the bottle and it is highly unlikely that office workers will go back to commuting five days a week, according to Dean Smith, joint managing director for the UK and Europe at international construction cost and project management consultancy WT Partnership.
But this is very much a positive thing, he noted. "What we have been able to demonstrate is that the technology is out there to enable effective remote working and our staff are seeing the benefits of that as indeed are our organisations," said Smith. "… It is a fundamental shift that shouldn't be understated."
The realisation that jobs really can be done from anywhere could also support the UK government's goal to relocate 22,000 civil service jobs out of London by 2030. "The plans and much of the work to implement government hubs have been in place for a number of years," said Kate Guthrie, deputy director workplace experience and smarter working programme director at the Government Property Agency (GPA).
But the crisis has changed the design of the new hubs, with fewer permanent desks and more collaborative space. "The purpose of the hubs is to provide a great place for government departments to come together. It's about connection, creativity, caring, and collaboration. We want to see multiple departments working together in one place. Each department will have their own sort of 'home zone', but there'll be many areas within the hub where they could come together to share ideas and ways of working," said Guthrie.
Another benefit of hybrid work is that it can provide a shot in the arm to local businesses. "I live in a small town in Cambridgeshire and during this pandemic, I would say that most local businesses – certainly local shops – benefitted from the fact that more people were working from home once they were allowed to open," said Kevin Murray, managing director at Metre Sq Limited and consultant to the Metropolitan Police Service.
It could also contribute to the government's commitment to hit net-zero carbon emissions by 2050. "During the first lockdown in March last year through to June, there were significant reductions in carbon emissions and air pollution because of the reduced travel and reduced traffic," said Murray. "We did actually manage to continue to work through that period, with a huge benefit to the environment."
Connectivity over geography
But Smith was clear-eyed about the implications of working from home for urban areas. Office workers may be enjoying a better work-life balance, but that is of little comfort to city-centre businesses – such as coffee shop owners, cobblers and drycleaners – who depend on their trade. If people don't go back to the office, city centre economies will suffer.
"We're interested in the implications that this has on the infrastructure of society and the built environment," said Smith. "You have to question the importance of geography going forward. If technology enables us to work more flexibly and remotely, is geography an important issue? Is connectivity actually the new key? And how does this affect the government's levelling up agenda?"
Certainly, the volume of retail space on city centre high streets needs to be reconsidered. The rise of e-commerce was already taking a heavy toll on high streets, but the pandemic has accelerated the trend – by as much as 10 years according to some retail experts. "Retail was in a parlous shape before COVID-19, but it has taken a significantly greater hit as a result of the pandemic," said Smith. "We need to start thinking more of the rise of retail as a leisure activity rather than a pure retail activity," he added.
Rethinking urban centres
Indeed, for some years now, many built environment experts have been calling for central and local government leaders to recognise that the purpose of city and town centres needs to be rethought. Some have advocated for a greater mix of uses with more emphasis on leisure activities, meaning retail spaces would be repurposed. Others foresee a movement towards more local working with people, tired of being in their own four walls, opting to work in a new generation of flexible offices based in their communities.
While Almond agreed that "adaption is part of the picture moving forward", he felt it was unlikely to "fully address the void" left by businesses moving away from cities. "I believe city centres need to become centres of excellence," he said. "We need to see cities specialising more in the areas that they are good at and the areas where they have assets that already support them."
For urban areas, that could mean supporting industries such as the life sciences, which require workers to be physically present. For smaller places, it might be a matter of backing independent retail and other local businesses. "The retreat of national retailers opens the opportunity for local businesses and I consider that to be a really good thing," said Almond. "They're a great source of vibrancy, variety and innovation, and they're fantastic for local identity."
Implications for public policy
Such outcomes will require intelligent support from the public sector, Almond added. "If we leave it to natural evolution, I think we can expect to see a repeat of the localised decay we've experienced before," he said. "We've got a chance to create new local communities served by local businesses. It's essential that we have joined up thinking around all of that."
Planning policy will have a major role to play, Almond said, adding that this does not mean greater deregulation as currently proposed. "I think we need a planning strategy – not just making development easy, but a structured approach to encourage the right type of development in the right place and of the right quality," he said.
"I think we need to look at integrated and cohesive urban structure plans to ensure that the disparate elements collectively deliver an impact and a value that is greater than the sum of the parts," he added.
Tony Devenish, west central assembly member of the London Assembly, agreed and noted that the private sector was heading in the right direction before the pandemic, for example, by increasingly moving away from mono-use retail or business districts. "The high street is not going to die, but it is already evolving," he said. "I'm seeing it in Oxford Street where there are going to be more large-scale hotels, for example, and there will be less square footage of conventional retail."
"I don't believe we're going to have so many single use projects," he added. "The more mixed-use approach, which has already been a huge feature of city development for many years, is here to stay."
The challenges of hybrid working go way beyond the organisations and professionals affected by changing trends. Quite how the situation unfolds is so far unclear, but what is certain is that both local and central government officials will have a role to play in maintaining the vitality of our urban areas.
This WT Partnership webinar was held on 8 July and hosted by Global Government Forum. You can view the full webinar on-demand by completing the form below: