Top Juncker aide named as EC secretary-general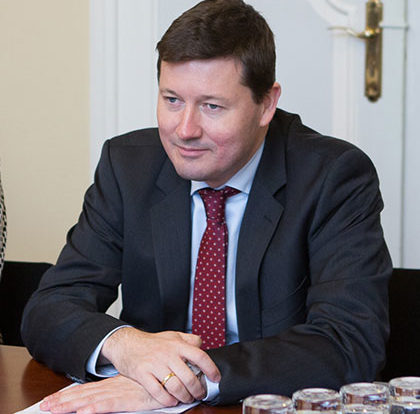 Martin Selmayr, the european commission's next secretary-general (Image courtesy: Saeima).
The top aide to European Commission president Jean-Claude Juncker has been named as the organisation's next secretary-general.
The appointment of head of cabinet Martin Selmayr as the European Union's most senior civil servant was announced alongside the retirement of current secretary-general Alexander Italianer, 61, with effect from 1 March. The moves have also prompted a ripple effect across other key EC positions.
Clara Martinez Alberola, who currently serves as Juncker's deputy head of cabinet, will replace Selmayr as head of cabinet, becoming the first ever woman to hold the position. Juncker's current diplomatic adviser, Richard Szostak, will fill Alberola's shoes as deputy.
Meanwhile Pia Ahrenkilde-Hansen, who currently serves as director of the Presidential Service Directorate-General Communication, will become the commission's principal adviser and acting deputy secretary-general.
Stepping up
Selmayr, 47, a longstanding Juncker aid who led his campaign for the EC presidency and is widely regarded as the commission's key power broker, will now lead its 32,000 civil servants for the remainder of Juncker's term – and possibly beyond.
Unveiling the new appointments on Wednesday, Juncker said: "The next 20 months will be decisive in fully delivering on a Europe that protects, empowers and defends. I need the best team in place.
"This is why I want Martin Selmayr as the new secretary-general to steer the talented and hard-working administration of our institution, and Clara Martinez Alberola to lead my personal team. Over the past years, Clara and Martin have earned my full trust and confidence.
"They have proven that together, they make a very strong team that can find swift and sound solutions to the most pressing challenges that Europe faces. With their professionalism, expertise and strong team spirit, the commission will be able to deliver its legislative agenda and prepare for the future."
Monster job
The appointment means that Selmayr, a German lawyer nicknamed the "monster" by Juncker for his ability to work at all hours, will not be required to leave the commission when the president steps down in November 2019. The post is permanent, and the last but one secretary-general Catherine Day served for 10 years.
But Juncker said at a news conference that it will be up to the commission's next president to decide whether or not to keep Selmayr as secretary-general.
The retiring secretary-general Italianer, a Dutchman with 32 years' service at the commission – including 30 months as secretary-general – will act as special adviser to Juncker on strategic issues, including the Multiannual Financial Framework and Brexit Preparedness, following his retirement.
Women leaders
The commission also announced five new directors-general (DG), including two women; and five new deputy directors-general (DDG), of whom four are women.
For Education, Youth Culture and Sport, the DG is Themis Christophidou and the DDG is Viviane Hoffmann. For Employment, Social Affairs and Inclusion, the DG is  Joost Korte and the DDG is Andriana Sukova. For Research and Innovation, the DG is Jean-Eric Paquet and the DDG is Signe Ratso. The DG for Climate Action is Mauro Petriccione.
The other DDGs are Céline Gauer for Health and Food Safety; and Koen Doens for International Cooperation and Development. The appointments bring the representation of women in the commission's top posts to 36% – a major leap from 11% in November 2014. Juncker's aim is for women to hold 40% of such posts by 31 October 2019.