We're all teleworkers now: flexible working policies in the USA, UK, Canada and Australia
UK PM Boris Johnson meets fellow G7 leaders to discuss Afghanistan in August 2021: remote working has become the default. Pic by Number 10
As social distancing rules are relaxed, will civil servants be drawn back into the office? Pablo Jimenez Arandia examines the emerging policies on flexible working in four big countries and some ambitious small ones
"Employers need to recognise that if they don't support flexible forms of working, they risk increased employee turnover, reduced employee engagement, and limitations on their ability to attract talent in the future", says Claire McCartney, senior resourcing and inclusion adviser at the human resources institute CIPD. Although political leaders may want to see civil servants flocking back into the office to revive moribund city centre economies, civil service bodies must compete to attract and retain talented employees – and in McCartney's view, that means responding to fundamental shifts in staff expectations and working practices.
The COVID-19 pandemic and enforced social distancing have shown that remote or hybrid work is not a pipe dream. Workers in both the private and public sectors have learned that there are alternatives to full-time office hours. Now many of them – forming a clear majority in some countries, including the UK – do not want to return to the pre-pandemic status quo.
The benefits of this significant change in the way we work, experts say, go beyond higher productivity and reduced office and travel costs. "Hybrid working, if it is supported in the right way, can also enhance employee wellbeing, and support inclusion and diversity," McCartney tells Global Government Forum. Many private companies have already embraced this substantive shift to flexible working. But what plans do governments have for their employees?
A global analysis of four nations – the US, UK, Australia and Canada – shows that senior officials are implementing plans to make work more flexible in their departments, although with different levels of enthusiasm and speed. In addition, some appear conflicted – with some political leaders suggesting that they want to return to largely office-based work, even while their own governments' policies promote a hybrid model.
Here, GGF picks up the signals emerging from these four countries on remote working, and notes some interesting policies emerging elsewhere.
USA: flexible working as a recruitment tool
With the arrival of Joe Biden in the White House last January, the United States government tightened up the rules designed to prevent workplace infections across the federal civil service. The new administration asked agencies to make "every effort" to maximise telework, while imposing mandatory mask-wearing and a maximum limit of 25% occupancy.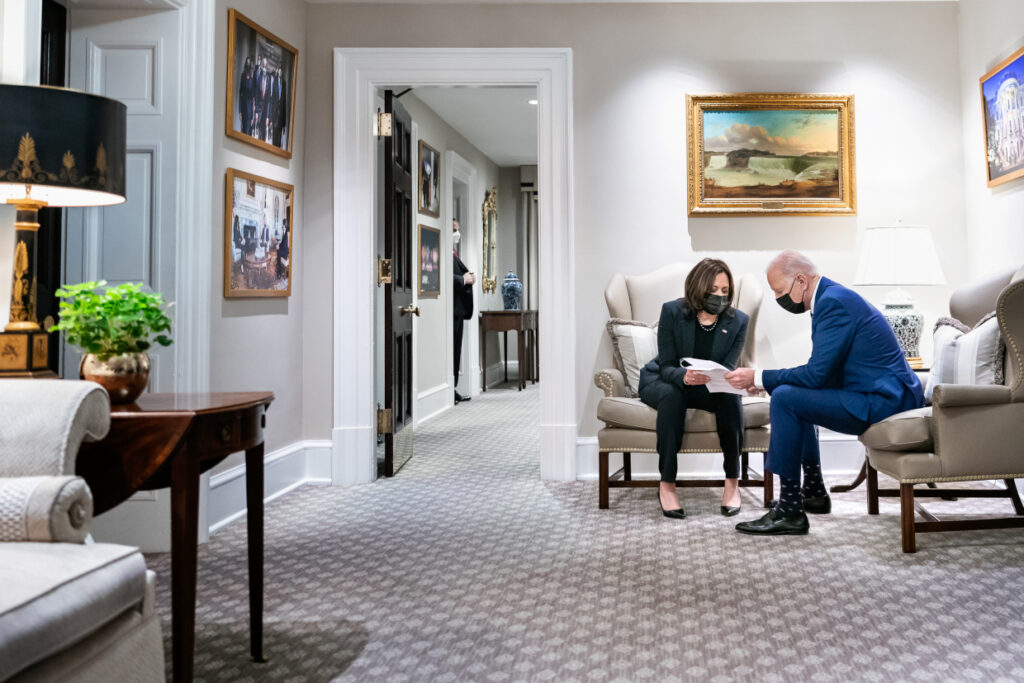 These measures reinforced a trend that had already been installed in practice during the last months of the Trump administration. An internal report from the Office of Personnel Management (OPM) found that 59% of public officials teleworked daily in 2020, compared to just 3% who did so before the health crisis.
Since the spring, the federal government has been working on policies to address the current pandemic and the years to come. It appears to envisage a slow return to the office, but clearly recognises civil servants' interest in retaining the remote and hybrid working practices built up since March 2020.
Last June, the White House published a memorandum urging public departments to "consider broader workforce and workplace trends", due to "the need for the federal government to be competitive for top talent as employers in the broader labour market". This guide for senior officials calls for "reimagining" personnel management policies under a clear principle: "Employees who have been teleworking during the pandemic generally will remain eligible for telework, at least on a situational basis".
US agencies enjoy some freedoms to feel their way forward, such as the ability to implement hybrid working pilot programs and then examine their results. And the government is committed to offering them more resources to manage a hybrid workforce, with additional funding and IT investment so workers can collaborate from different locations.
This investment will be crucial to success, says Claire McCartney: "It's important that organisations engage managers and provide them with training and development to support successful hybrid working… Tech plays a crucial role in hybrid working, and it's likely that many employers will need to invest in this space to allow employees to work seamlessly between the workplace and home ".
But embedding the cultural and behavioural changes prompted by the pandemic will not be an easy task. Kiran Ahuja, director of the OPM, sent additional guidance to federal agencies in July admitting that many managers remain opposed to remote work – especially when this practice is not forced by a crisis situation such as the pandemic. Ahuja reminded senior officials that public bodies "should make any on going determinations of telework eligibility based on job functions, and not managerial preference per se."
In the USA, it seems, top-tier leaders and many junior staff want to build on the changes made during the pandemic – but among the middle managers and some senior leaders, old suspicions and concerns remain.
UK: tensions between policy and politics
The evidence shows that UK civil servants want to work for employers where flexibility prevails. In a recent survey carried out by GGF for Dell Technologies, 82% of British officials said they wanted to work from home more often in the future. Some 72% of respondents said that working remotely improves their wellbeing, and 59% that they're more productive at home than in the office.
And GGF's data lines up with the government's own information. The UK's Government Property Agency (GPA) surveyed 25,000 officials in recent months to ask about their experiences working remotely: "They told us they would like to go back to the office maybe two or three days a week," Dominic Brankin, director of workplace services at GPA, told the audience at a recent webinar hosted by GGF.
The UK government's plans appear to coincide – at least in part – with its workforce's preferences. Since abandoning social distancing restrictions on workplaces in July, the Boris Johnson administration has asked government employees to progressively return to their offices. However, the executive has given the departments freedom to manage this return incrementally, introducing hybrid working models.
The adoption of flexible working for the long term fits with the government's stated policies: departments have long been encouraged to move staff out of central London to regional 'hub' offices designed to support remote working, and under the Tories' 'Levelling Up' policy 22,000 civil service jobs are set to move from the South-East to other regions.
There are, though, conflicts within government messaging. In September 2020, the government asked Whitehall bosses to "move quickly" so that their staff could return as soon as possible to the offices, supposedly with the aim of revitalising downtown businesses. Union opposition, the risk of exposing employers to legal action and the increase in coronavirus cases soon prompted a retreat.
A year on, some government figures are making similar noises again. Unnamed ministers briefed in early August that officials who fail to return to their offices in the capital should lose the 'London weighting' element of their pay, prompting the FDA union to write to Cabinet Office minister Michael Gove pointing out the contradiction between ministers' briefings and the government's own ambitions for greater flexible working.
Last week, Gove replied – praising civil servants' work during lockdown, agreeing that the briefings were "unhelpful", and noting that the government's approach "takes advantage of the benefits of home and office working."
"Long-term flexible working arrangements", he said, are "crucial to delivering on our mission to be more like the country we serve, with more officials and as importantly ministers outside of London."
As Dominic Brankin said at the GGF webinar: "Fixing the workplace and fixing the technology is easy," but "supporting a change in behaviour and thinking and belief is much harder, and I think a longer road for us to travel".
Australia: new attitudes, big plans
In some countries, the pandemic has modernised attitudes as well as working practices. "Previously, flexible arrangements were most often used by women working part-time or accessing flexible hours", Australian Public Service (APS) Commissioner Peter Woolcott said in a recent speech. But during the pandemic, flexible working models – "whether working remotely, over split shifts or rotating teams through the office" – were "widely embraced as a necessary measure to ensure employees could remain productive and focused on critical service delivery".
Woolcott outlined the strategic plan that the Australian government has put in place to transform its workforce until 2025, responding to the lessons learned during the pandemic – such as the value of flexible working, and the need for stronger digital skills. The government says its aim is to create a more agile workforce, increasing its mobility and flexibility; and for this it is essential to solve the deficiencies in key skills for remote work, including data processing and ICT skills.
In this, the government is following the route mapped out by big private sector operators. One of the largest national companies, telecommunications group Telstra – state-owned until the 1990s – launched an ambitious plan this year to allow its workers to work where and when they want.
At the moment, the Australian government's commitment to flexibility has not prompted a universal approach among its public bodies. As of May, more than 22,300 individual requests from public officials to telework had been fully or partially accepted, but employers are taking quite different approaches: approval rates vary widely between different civil service bodies.
Canada: employers and unions aligned
Responding to the pandemic, the Canadian government has launched an ambitious plan to boost remote work. According to the Treasury Board of Canada Secretariat, the government has invested in teleworking tech – doubling the number of secure network connections in just three months, and tripling its capacity for teleconferencing – and published a comprehensive online guide for its employees.
As in other countries, efforts to create a more flexible work model have found a powerful ally in trade unions. This effort has been in part led by organisations such as the Public Service Alliance of Canada (PSAC), which represents federal workers across the country. Chris Aylward, PSAC's president, recently said that a majority of its members, with the exception of some critical employees, continue to work from home today.
"A return to the workplace is really not on the radar right now," Aylward said, reflecting the messages coming out of the Treasury Board – which has confirmed that employees will continue to work remotely "for the foreseeable future". Jean-Yves Duclos, the Treasury Board president, said that the pandemic will generate "lessons to improve the productivity of public servants" and that working out of the office will become a permanent feature of the Canadian civil service. This shift will be supported by the GC Workplace initiative, launched in 2019, which provides a network of satellite offices where public sector staff can access office facilities near their homes.
Canada's journey clearly reflects the wishes of its civil servants: according to Canada Statistics, 80% of new teleworkers wish to continue fully or partially exercising their functions outside the office. Of all the countries examined, Canada shows the most unity between ministers, unions and workforces – suggesting that it's likely to enjoy the smoothest journey into a long-term future of flexible working.
The best of the rest
Around the world, other countries are rolling out their own flexible working policies – some of them very ambitious.
In Ireland, for example, earlier this year the government published its National Remote Work Strategy – which promotes teleworking across the Irish labour market, both in private companies and in government.
In Malta, the government wants to see a truly flexible workforce. Anthony Gatt, permanent secretary of Malta's Ministry for Energy, Enterprise and Sustainable Development, explained at a recent GGF event how the administration is preparing a strategy that will allow officials to "work from anywhere at any time".
In Portugal, the government has put flexible working for public servants at the heart of its plans to revive depopulated and economically weak areas in the country's interior. A July 2020 law encourages public sector staff to relocate, offering both additional pay and benefits, and the opportunity to work remotely or flexibly – making use of a new network of teleworking offices set up in these regions. By 2023, the government aims to see 25% of its employees working remotely.
Even the European Commission is looking towards a future of remote working. "We are working on teleworking" in its forthcoming human resources strategy, a spokesperson said last month. The EC intends to close half of its 50 Brussels office buildings, recognising that an irreversible shift has taken place – one that will see a future of flexible working for many staff in private firms, public bodies and international organisations alike.