Protecting nations, respecting rights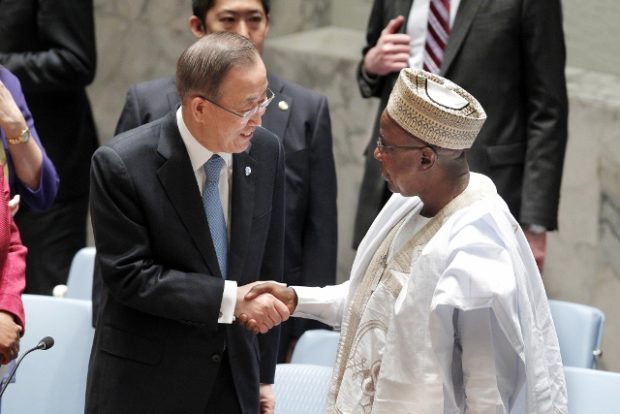 Ban Ki Moon greets Nigerian minister for foreign affairs, Aminu Wali, who is the UN's Security Council president for May. UN photo by Devra Berkowitz
Ban Ki Moon has outlined the UN's priorities in security sector reform. Here's what he told the Security Council
Reforms to national security in UN member states should keep clearly focused on their purpose of "making people's lives safer".
That is the view expressed by UN secretary-general Ban Ki Moon in a speech to the Security Council open debate on security sector reform, held in New York in April 2014.
In his speech, Mr Ban argued that "The legitimate authority to use force comes with a corresponding responsibility to protect and respect human rights" – a responsibility that must be met if governments are to safeguard the wellbeing of citizens.
The role of the UN
He asserted that, "A professional and accountable security sector under the framework of the rule of law can strengthen public confidence in the State and provide the stability necessary for peace-building and development."
Crucial to this, he argued, is appropriate training of national security staff, and monitoring of their conduct. Without these elements, Mr Ban indicated that the activities of security services in some countries could infringe their residents' human rights.
The secretary-general drew on the experience of countries such as the Central African Republic to underscore the importance of an effective security sector to a nation's social stability.
He went on to identify ways in which the United Nations can help governments improve their security operations. These include advising on the development of new security strategies, as the UN has done in the Ivory Coast and Mali, or contributing to the financial management of security, as in Liberia and Somalia.
Four priorities
Even so, Mr Ban noted "an increasing gap" between what countries expect of the UN and what it is actually able to provide in the way of support. With this in mind, he outlined four priorities for the organisation.
First, he said it is important to recognise the link between state security and broader areas such as legal and institutional reform, national reconciliation and political dialogue. He said he would encourage his Special Representatives to "leverage their good offices functions in support of this work", acknowledging that this involves providing more than just technical assistance.
As a second priority, Mr Ban said that host nations would be expected to do more to meet their immediate security needs. He added that the UN would withdraw support to countries in which security organisations commit, or fail to address, human rights violations.
Third, he called for greater emphasis on "sector-wide approaches that address the strategic and governance framework underpinning all security institutions". In essence, this recognises the need for a joined-up approach to security reform, which understands the importance of ongoing governance procedures in protecting a nation's population.
As his fourth priority, he said the UN would reflect on its own capabilities and capacities to ensure resources were used in ways that "meet the needs on the ground."
At heart, Mr Ban concluded, security institutions need to anchor their activities in a "culture of service, rather than an unchecked and unaccountable exercise of power and force." That means balancing recognition that a certain amount of power is needed to protect citizens effectively, with a proper concern to wield such power responsibly.