Giannis Baskozos, General Secretary of Public Health at the Greek Ministry of Health: Exclusive Interview
Giannis Baskozos, General Secretary of Public Health at the Greek Ministry of Health
Faced with high unemployment, falling budgets and the refugee crisis, the Greek Ministry of Health is launching a system of universal health insurance. Its general secretary Giannis Baskozos explains his plans to Stav Dimitropoulos
"Because of the crisis, the health of citizens is going downhill," says Giannis Baskozos. "The same applies for health standards, which are deteriorating because of insufficient access to healthcare facilities."
As General Secretary of Public Health at the Greek Ministry of Health (GSPH), Baskozos is charged with maintaining Greece's struggling medical services in the teeth of EU-imposed austerity measures that have produced budget cuts throughout public services. According to the President of the Medical Association of Patras, health indicators have fallen in line with the country's GDP, with chronic diseases and depression both on the rise. And along with their jobs, many Greeks have also lost the insurance coverage that funded their use of health services – threatening their access to treatment.
The health ministry's response has been to introduce the 'Free Access to Primary Healthcare Services Voucher', which is designed to provide medical cover for uninsured citizens. "Our target is to offer universal health coverage," says Baskozos. "Every citizen has the right to healthcare: this is non-negotiable for us. As a counterweight to the reductive policies of the past, the voucher offers access to all primary healthcare facilities, including university hospitals and laboratory tests." Former workers, their spouses and children who've lost their insurance coverage may apply for the vouchers via a new digital service, he adds. The scheme has been allocated €100m (£86m or $112m), though Baskozos appears optimistic that costs might come in below that sum.
The general secretary is relatively new to government, having taken the job in January 2015. An endocrinologist by profession, he's served as first Vice President of the Panhellenic Medical Association (PIS) and Vice President and Chairman of the Hellenic Endocrine Society. So his medical expertise cannot be challenged; and his political connections are just as strong, with his CV containing a stint as head of the governing party SYRIZA's Sector οf Health and Social Welfare State. Baskozos's appointment a few days after the formation of the SYRIZA-ANEL coalition government was seen as evidence of the critical importance that the administration attraches to health issues.
It was not an easy introduction to the Ministry. "When we took power, we found decay and decline everywhere," he recalls. "Forced lay-offs of public health staff had crippled the health sector, and the only index that was soaring upwards was that of pharmaceutical spending – which had reached €6 billion in 2009." According to newspaper reports, by that point spending on medical drugs had rocketed by 400% – even as overall public health spending collapsed by 40%.
In the years to come, Greece will also feel the consequences of the collapse of a decades-long investment in free public tertiary education. With an estimated 200,000 qualified scientists and technical experts having fled the country during the past two years, brains moulded in the small Mediterranean country have flown north to more robust economies. And this presents another headache for Baskozos: Hellenic Statistical Authority data shows that the number of newly-qualified doctors in the country fell by 11% between 2009 and 2013. The Athens Medical Association reports that, on average, two of its members are leaving each day. "We've estimated that 25,000 doctors are needed in Greek hospitals. We must and will lay the groundwork to bring scientists back to Greece," he says. "We are preparing a plan focused on recruiting medical personnel for research and clinical trials. We aspire to recruit 3,500 physicians within 2016."
Providing some relief for the Ministry, fears that the camps housing the country's huge population of refugees could suffer from outbreaks of disease have – so far – proved unfounded. And the flow of migrants has slowed since Turkey signed a €3 billion-a-year refugee deal with the EU, dropping from 27,000 in March to less than 2,000 in May. A national action plan put in place by the government has helped, says Baskozos; but he adds that it's imperative that the Turkish agreement remain in place – and that the refugees move on. "We will do anything in our power to provide all necessary medical care and accommodate roughly 60,000 refugees in Greece, but relocation is of the essence," he says. "Greece cannot be turned into an endless camp; we do not condone this."
In the meantime, the Ministry of Health is to receive €24.2 million in emergency funding from the EU's Asylum, Migration and Integration Fund (AMIF). The cash will support the provision of primary and mental health services for refugees, and bolster Greece's public healthcare and epidemiological surveillance services.
"Faced with the refugee crisis, our plan is to prevent epidemics through enhancing civil protection," comments Baskozos. "We have an epidemiological agenda composed of three main pylons. The first pylon is access to healthcare; the second is epidemiological surveillance; and the third is vaccination."
Yet whilst the general secretary urgently needs injections of cash such as the EU's AMIF grant, he sounds less impressed with the EU's wider policies on Greece. The union's action on the refugee crisis only got into gear over the last two years, he points out – long after migrant numbers spiraled in Mediterranean countries. And of the budget cuts attached to Greece's three bailout memoranda – signed with the 'troika' of the EU's Commission and Central Bank, and the IMF – he says: "Troika's memoranda have given a massive blow to public health."
After a long career in medical practice, Baskozos now has the task of shaping health services themselves. But he's arrived during an era when the task is not to hasten a rise in public health, but to slow its decline – and he well understands the long-term effects of poor health services. "I am afraid the worst is yet to come," he confesses. "The disconcerting side effects of harsh austerity will be mostly felt in hindsight, in the years to come."
The Global Government Forum: Five Thoughts for Better Government
Giannis Baskozos on learning from overseas
To help our readers get the best out of Global Government Forum, we ask interviewees five standard questions – four seeking practical advice and opinions, and one to reveal something a little more personal.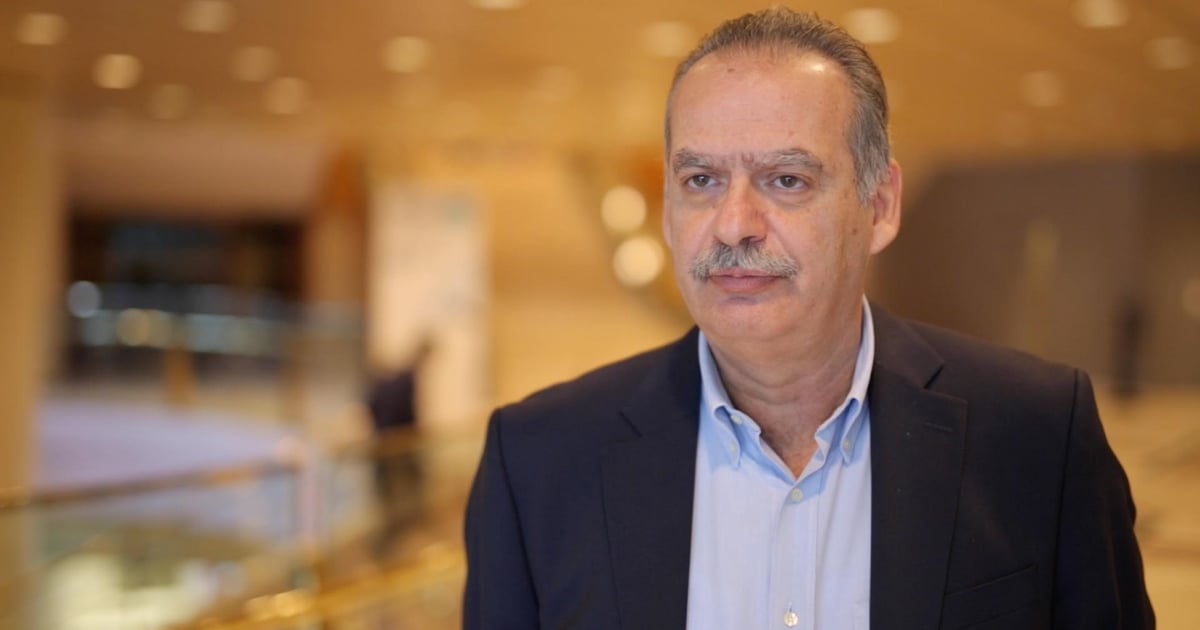 Can you name one lesson or idea from abroad that's helped you or your colleagues?
"Tightening Greece's international cooperation with our partners is crucial. If we look to our partners – both on an EU and a global level – we can gain experience and the opportunity to raise Greece's rank in the international status quo.
"I can name three ideas from abroad that I find useful. First, the concept of health technology assessment (HTA) [a systematic evaluation of the consequences of medical interventions]. Second, the concept of collective negotiation on the prices of drugs, in alliance with clusters of countries. And, third, the national action plans for the elimination of diseases like HIV or hepatitis.
"These are ideas inspired by our cooperation with our partners abroad. Inspired by our own political zest, we will attempt to translate these ideas into national policies."
Are there any projects or innovations from Greece that might be valuable to your peers overseas?
"With the humility one should show answering these kinds of questions, I would point to our national action plan for migrant and refugee health – a plan stemming from the mandatory experience of our country with the refugee crisis. It's a plan that might prove indispensable, and has already drawn the global community's eye. Additionally, our policy of offering universal healthcare to everybody living and working in Greece is a second serviceable project, on which the Greek government might prove ahead of its time."
How can we improve the ways in which senior public officials work with and learn from their colleagues overseas?
"The concept of utter homogenization of healthcare systems internationally is not feasible; systems differ. However, positive experiences from good practice ought to be shared between countries. For this, global governments must demonstrate the political volition to exchange ideas and expertise. On top of that, we need to highlight transparency and information exchange, particularly on the delicate issue of public health."
What are the biggest global challenges within your field in the next few years?
"An evergreen global challenge is the extermination of poverty and its vicious circle; thus, the extermination of sanitary poverty and inability to provide adequate healthcare to all social layers.
"A second challenge is to get the measure of the medicinal potential of today, to realistically assess available drugs, and to estimate how we can eliminate modern health plagues.
"A further challenge is to facilitate access to innovative drugs for all, via negotiating and controlling the prices of drugs in a way that makes all countries able to purchase them. We should also not neglect to develop inoculation policies to deter re-emergence of old diseases."
What's your favourite book?
"Over the past three years, I've been reading and re-reading 'The Body Economic: Why Austerity Kills', by David Stuckler and Sanjay Basu. It's a precious book that offers good insights into how economic crises affect human health and what needs to be done to thwart this downward spiral. I highly recommend it."
For up to date government news and international best practice follow us on Twitter @globegov
See also:
Thomas Maloutas, General Secretary for Research and Technology, Ministry of Education, Greece: Exclusive Interview
Rolf Alter, Director for Public Governance and Territorial Development, OECD: exclusive interview
Russian scheme to raise the country's fertility rate flawed, report finds